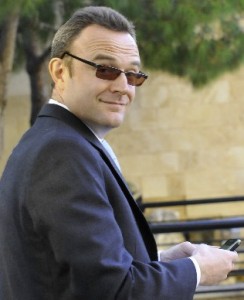 RIMM reported better than expected Q1 results driving the shares up 20% but even a dead cat will bounce if dropped from a high enough altitude.
Q1 Revenues and EPS were $2.87bn / LOSS $0.45 compared to consensus at $2.47bn / LOSS $0.68. (includes restructuring).
ASPs were also strong at $229 compared to consensus at $194 driven by the push to upgrade subscribers to BB7 and a small shift in mix back towards developed markets.
This was mostly on account of the better volumes of devices where 7.4m devices were sold compared to expectations of 6.7m.
Playbook was disappointing again shipping 130K units compared to forecasts of 217K units but frankly the volumes are so low that no one really cares.
I expect that RIMM will sooner or later realise the futility of its tablet offering and give it up thereby making some much needed cost savings.
Critically cash burn was negligible with the cash balance declining by just $60m. Amortisation and goodwill write downs wiped out the losses allowing cash to remain stable which I suspect was also well received.
RIMM also managed to grow the subscriber base by 2m to 80m bit the mix and quality of these subscribers is falling fast despite this quarter's blip.
Out go the high spending corporate executives spending $100+ per month and in come the teenage texters in Indonesia spending more like $5 a month.
Guidance was very cautious with commentary surrounding the current strategy to maintain the user base through very aggressive pricing on both the devices and the subscription fees charged to operators.
The crown jewel is BBM. The vast majority of the user base is now using BBM as it's a great way to send texts for fixed charge.
The network effect is also very strong and the minute that BBM usage starts to slide or to fall then the game is over.
BB10 is slowly emerging but as the value of RIMM remains in BBM, I am not sure why the users are going to care that much.
What is more these users are increasingly super low end and less likely to be able to pay for an upgrade to their Blackberry device especially if it doesn't add that much extra value on BBM compared to their existing device.
Estimates will rise following these numbers but I can't put my hand on my heart and say that this is the bottom, there could be worse ahead.
The share is horribly volatile, albeit very cheap, but I still don't want to play one way or the other as I can't really see the direction yet.
Short-term bounces around news flow are likely to remain the order of the day.