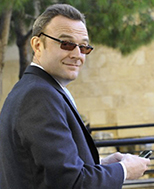 Anti-tracking spells trouble for internet economics but social networks should remain immune.
User stubbornness over privacy threatens that which they hold most dear: Free internet.
Everyone loves Google's many applications and Android because they work well but mostly because they are free.
There are a great many other examples.
Free is the great myth that has percolated through the internet since it was created and has in fact never really been true.
Users of Google and other services are in fact paying for these applications, just not in cash.
Users are with a part of their privacy creating a happy delusion where they believe themselves to be the customer when in fact they are the product.
Until recently, all browsers would track activity via cookies and this information would be shared with other websites.
These websites would then target advertising relevant to recent browsing activity within the content served to users.
It is well known that targeted advertising is many more times affective in winning sales than random advertising.
Hence, advertisers will pay a much higher price for a targeted advertisement than a random one.
It is upon the economics of this that the free internet has been built.
However, browsers are being increasingly enabled with the option to turn tracking off meaning that only random adverts are served when the user visits a certain webpage.
While this is great for privacy, what users don't realise is that it may just kill the golden goose.
Providers of "free" applications and services have to eat too and if the quality of advertising served to users collapses due to the privacy option then so will their revenues.
Big, sophisticated players like Google are likely to be less affected as they will still maintain the ability to track activity via the traffic that they manage through their servers, but smaller players could be hung out to dry.
As far as I can see, this will not affect the social networks, as it's the information that the users store on their servers that is used to target advertising.
Many users haven't realised it but they have traded their personal information for the service rendered and as such have no simple means of getting it back.
To date, take-up is low with (10% (Mozilla)) on the desktop and 19% (Android) on mobile, but this looks certain to climb as users become more aware.
This is bad news for those smaller players trying to scratch a living from advertising revenues but I think that the larger players and especially the social networks will remain relatively unscathed.