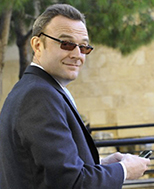 BlackBerry 10 hopes to sell itself on a feature that so far has not worked for Microsoft.
Despite being snubbed by the marketing department, I think Blackberry 10 has merit and a fighting chance.
At global events in New York, Toronto, London, Dubai (to which I was unable to attend), Paris, Johannesburg, Jakarta and Delhi, Blackberry 10 was launched with very little showmanship.
It's a good job that the platform was able to speak for itself as BlackBerry execs did a very poor job of whipping up excitement.
The crash of the BlackBerry's share price yesterday was due to only one factor, the price of the devices.
The market had been hoping for something cool and something cheap.
It got something cool but it is not cheap at $199 with a two year contract or $149 with a three year contract in the US.
This basically puts BlackBerry 10 in the high end of the Android market and on or just below par with the iPhone.
This is where the problems occur.
Against low and mid end Android and existing BlackBerry, Blackberry 10 is compelling but against high end Android and iPhone, the case is less obvious.
Blackberry 10 takes many of the innovations of Windows Phone (hubs) and takes them a step further by integrating them all together in one place.
The user experience is completely novel in that the user spends no time at all among the traditional grid of applications, but in an environment where he or she can swipe to move around.
At all times a quirky up and to the right swipe reveals the hub where all emails, SMS, BBMs, IMs, Facebook, Twitter and Skype (coming soon) notifications are displayed.
This is a new level of integration as the user can interact with any one of these services without having to hit the home screen and navigate to the relevant application.
This is exactly the innovation that Microsoft came up with in 2009 with Windows Phone, that I love, but no-one bought.
Maybe the market is not ready for the user experience to go to the next level but BlackBerry is the second company to go in this direction.
I still believe that the market will move towards integration in the longer term, and here Apple looks very vulnerable.
BlackBerry has put a vast amount of effort into this platform and it is slick, pretty and has plenty of differentiating functions.
Typing, BlackBerry Balance, BlackBerry Remember, Story Maker and Camera all offer interesting takes on digital life and I think they will appeal to many users.
However, the third party application offering looks poor.
It headlines with 70,000 applications but many of them appear mediocre, giving the impression that BlackBerry has allowed any old rubbish onto BlackBerry World just to make the numbers.
Android applications will also run on BlackBerry 10 (thanks to a Dalvic emulation from Myriad) but they execute very poorly and there is no consistency of usability between it and the native BlackBerry 10.
Enterprise has also not been forgotten with corporate software running on a completely separate kernel.
Data from the enterprise and consumer are presented to the user together in the hub but with enterprise on a totally separate kernel, the security and control requirements of corporates has been nicely addressed.
This ability to run multiple kernels is one of the main features of QNX and was a key factor behind its acquisition by BlackBerry in 2010.
Net net this is a really good first iteration of a new platform but it has the following problems in my view

It is too expensive for what are now BlackBerry's core markets.
The user experience is not intuitive until you have learned how to use it. Only then does it make sense.
The user experience is not consistent across all functions. For example, sometimes there is a back button but sometimes there is not.
There are lots of applications for a just-launched platform but they are mediocre.
Outside of integration, it does not do anything that iOS or high end Android do not.

BlackBerry has done enough to give itself a seat at the table in the ecosystem war but whether or not it will succeed in being a major player is very uncertain.
This is particularly the case as its core appeal is a feature that Microsoft has had for 3 years and has not succeeded in selling to users, despite a far bigger marketing budget than BlackBerry.
If BlackBerry shares continue to weaken, an entry point may become apparent, but I don't want in just yet.