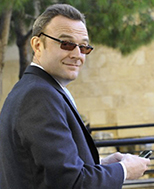 The US judiciary seem bent on forcing Apple and Samsung to settle. 
Apple and Samsung remain locked in a legal war which is showing no signs of ending.
The latest turn of the screw is Judge Grewal's refusal to allow Apple to add the Samsung Galaxy S4 to its current lawsuit for patent infringement against Samsung.
If Apple wants to assert its patents against this device it will have to file yet another complaint and proceed to yet another trial.
This is a problem for Apple because by the time it has filed, tried and won a case against this device, the hot seller will be the Galaxy S5 or S6 making any remedy much less effective.
The reason given for this denial seems to be centred around the amount of court time and resources this fight has been taking up.
To me, this looks like a pretty poor excuse.
Judge Lucy Koh, who tried the first case, has tried to get the parties to settle several times with no success.
My guess is that the judges involved can see the futility of this endless tit for tat and want the parties to sit down and come to an arrangement.
Asking nicely did not work and so the judiciary seems to be making life as difficult and as expensive as possible for both parties to wear down their stubborn resistance to a settlement.
I am pretty sure that any settlement would involve a net royalty being paid by Samsung to Apple but the problem is that Apple doesn't want it.
Apple wants Samsung to stop using its technology and given that it is not prosecuting any standard essential IPR, it has every right to demand that.
Unfortunately with the patent system the way that it is, this is just not practical and I believe that Apple is worse off without a settlement than it is with one.
I also believe that the net royalties that Samsung would end up paying to Apple would be less than the legal fees that it is currently paying continue the fight across the world.
At the height of its fight with Nokia, Qualcomm was spending $300m a year on legal fees.
Hence it is also in Samsung's interest to settle this case.
I am still optimistic that the case will be settled sometime this year but for a little while yet this absurd and ludicrously expensive tit for tat is likely to continue.
The only ones smiling here are the lawyers.