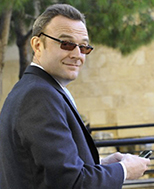 There are signs of stability that Wall Street will over interpret.
Facebook comfortably beat forecasts but comments around usage and limiting the degree of monetisation caused a 15% reversal in the share price after hours.
Q3 revenues / EPS were $2.02bn / $0.25 compared to forecasts of $1.91bn / $0.19.
Mobile revenues were very strong at $880m (49% of advertising revs) matching the fact that 48% of users now access the service via a mobile device.
Advertising revenues growth was 66% YoY driven by a 16% increase in impressions and a 42% increase in price per ad.
This is a strong indication of the improvements that Facebook has made in the quality and relevance of its advertising placements.
However, the slower growth in ad impressions themselves and the stabilising user ad usage metrics are signs that growth is likely to moderate from the heady 66% seen this quarter.
This will be further exacerbated by the sensible decision not to lace the news feeds with more ads.
This is very important for the user experience but it will have the effect of slowing growth further as the inventory for sale will now be stable.
This is not new news and indeed the company discussed this issue on its call last quarter.
This is what is what will drag down expectations but it is worth remembering that online advertising still has a long way to go.
For example, people spend more time consuming digital services than they do watching television but it is still only a fraction of the advertising budget.
Hence, I think that there is still plenty of growth to be had from the migration of advertising spend to online media and services.
However, it is not going to be anything like the kind of growth we have seen this year.
It looks to me that estimates are going to begin coming down for 2014 and that's where I see the opportunity as the chances are they will come down way too far.
Wall Street is very fickle in its loves and loathes and I would wait for all the disappointment to set in before attempting a second bite of the apple.