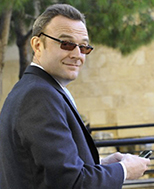 Samsung has no choice but to push into the ecosystem.
Samsung and Google have signed a 10 year patent agreement but there does seem to be more involved than just a simple IP cross licence.
The first sign of this is that the media hubs through which Samsung was selling movies and music have disappeared from the Galaxy S5.
It is no secret that these hubs compete directly with the Google Play store and it seems logical that Samsung has removed them as part of the agreement it made at the end of January.
There is speculation that the new Magazine UX on the TabPro may be dumped as well as its instant messaging application ChatOn.
All of these are aimed at promoting Samsung Digital Life Services over those of Google.
Very little is known about the agreement between Google and Samsung but whatever has been agreed, nothing can change the reality that Samsung currently faces.
That reality is a harsh one.
Unless Samsung makes a successful migration into the ecosystem, its handset margins will return to 5-10% over the next few years.
This means that whatever it has agreed with Google, it must remove Google from its devices and encourage users to live their Digital Lives with Samsung rather than Google.
This is because hardware continues to commoditise and Samsung's ability to differentiate in hardware and user interface will erode over time.
This means that other devices will be equally good and equally fun to use, removing the user's ability to tell the difference and his willingness to pay a premium.
Hence, Samsung must develop its own services if double-digit margins are to be preserved.
If it can create a great ecosystem (that's a big if) then these should only be available on Samsung devices and then users will be willing to pay up for the devices to get the services.
One possibility is that Google's end of the agreement is to make its services optimised for Samsung devices such that they perform better on Samsung devices compared to anyone else.
This would have the effect of Samsung's devices being preferred by users of Google services giving Samsung pricing power and hence margin.
This is a risky strategy as Samsung only has half the market for Android meaning that Google will have effectively alienated the other half, leaving them probably looking for something else.
Furthermore, if this is the case, I can see anti-competitive complaints being made to regulators regarding unfair competition by these two companies.
This is the only scenario in which I can see Samsung agreeing to move closer to Google and promoting Google's services over its own.
Handsets make up 75% of Samsung Electronics' EBIT and if margins fall to 5-10% (from 17% in Q4 13A), then the share price could easily halve.
It is extremely unlikely that Samsung would voluntarily sign up for this future and so I suspect that the Samsung services strategy remains fully active.
Its recent commentary to the media also indicates that this is the case.
Hence, I continue to expect Samsung to fragment the Android ecosystem and to throw Google off its devices in the long run.
Anything else leaves Samsung with a reality that no company trying to create value, would ever take lying down.
Samsung is cheap but it has a huge hill to climb and it has to make a dangerous enemy leaving me preferring the ecosystem upstarts of Yahoo! and Microsoft.