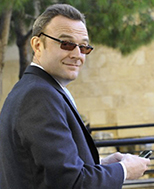 Twitter's Q1 was good, but not nearly good enough.
Twitter reported results that met headline expectations but were not the blow-out that the valuation of the stock demands.
Q1 revenues / adjusted-EBITDA were $250m / $37m compared to consensus at $242m / $20m.
The monthly active user count accelerated to grow 6% QoQ (up from 4% QoQ in Q4 13A) to 255m users but it fell short of the street which was hoping for something in the region of 260m.
Guidance for Q2 was in line with expectations with revenues / adjusted-EBITDA of $275m / $27.5m forecast but full year guidance fell short.
For FY14E revenues of $1,225m are expected which is just slightly below consensus at $1,241m.
This is slightly above my FY14E forecast of $1,200m which I have now raised to $1,250m. I have also raised FY15E to $1,600m from $1,500m.
Despite what I would call a steady set of results, the shares were off 11% in after-hours trading as the market is finally realising that the dreams are falling short of the reality.
This reality is that, in its current form, Twitter is a niche player and does not have the reach of Google or Facebook. (See here and here)
RFM's Digital Life analysis shows that Facebook's reach in Digital Life is 33% while Google has 66%.
Twitter has a paltry 7% and this fundamentally limits its potential to earn revenues. (see here and here).
This limitation in reach means that RFM forecasts that Twitter's revenues will flatten out at $2bn unless it can expand its reach into other areas of Digital Life.
This, it is trying to do but success has been quite limited to date.
Twitter is a good company with a unique offering but it is no Facebook and the market is finally beginning to realise that fact.
Adjusting RFM's valuation of Twitter for the slightly higher revenues as well as movements in the share prices of both Google and Facebook against whom the shares are valued, leads to a slight reduction in the valuation of the shares.
RFM now values Twitter at $32.0 per share, down from $33.0 on February 6th. (See here)
With an after-hours share price of $38 per share, the shares are much closer to reflecting the realities the company faces rather than dreams of it being the next Facebook.
There is still some downside but the immediate need to sell the shares has eased substantially.