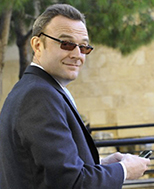 Digital Life services are what Apple needs to secure its future.  
Next week sees Apple host its overhyped WWDC developer's conference in Silicon Valley.
It is at this conference that Apple typically launches its software innovations leaving devices for other events.
Hype has focused around wearables, health and smart home but none of these are likely to do anything for Apple in the immediate term.
Wearable are a solution looking for a problem (see here) and unless Apple has come up with a use case that suddenly makes these devices a must-have, demand is likely to remain very soft.
Health (see here) is likely to remain hobbled by the lack of unobtrusive and reliable sensing devices and smart home looks like nothing more than a certification procedure for devices to work with iOS.
What I am looking for from Apple are moves to address its very weak Digital Life offering.
Apple is brilliant at delivering the apps and services of third parties onto its devices but its home grown services are very limited in scope and are often substandard.
Apps and services are not part of Apple's core strength and this is why I suspect the Beats is the first of many M&A deals over the next few years.
The fit with Beats is quite good in that headphones expand its hardware reach and the streaming music service is complimentary to iTunes
However, Apple has to offer much more of its own services to users if it wants to preserve its edge and maintain its very high margin in a rapidly commoditising industry.
Apple has struggled to create many of these services itself and this is why I can see it repeating Yahoo!'s strategy of growing its way around the Digital Life pie by acquisition.
I am hopeful that Apple will be able to do a better job than Yahoo!
I am still waiting for a coherent and integrated offering from Yahoo! for mobile devices.
Unless the market chatter has got it wrong, WWDC is shaping up to be a pretty boring event with very little launched that will actually drive Apple's top and bottom lines any time soon.