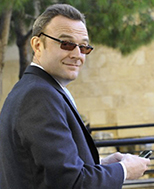 AOL is not the answer.
A recent open letter from activist shareholder Starboard has correctly diagnosed all the issues at Yahoo! but its prescription will not fix the company.
There is no doubt that performance of the core business has been extremely disappointing over the last 2 years.
Revenues in its display and search based online advertising business have been essentially stagnant despite strong growth at almost all of its peers.
Google, Facebook, Twitter and many other who earn revenues from online advertising have all seen strong growth particularly from mobile and video.
Hence, it is clear that Yahoo! has chronically underperformed both its peers and the market.
The main reason for this is that it predominantly earns its revenues from display based advertising which is the slowest growing and least attractive of all online advertising.
Its share price performance has simply been a factor of its stake in Alibaba which has shielded shareholders from the underperformance of the core business.
Now that Alibaba is listed, the attention is already turning back to the core business and Marissa Mayer's grace period has now run out.
There is certainly substantial value to be unlocked at Yahoo! as the company is trading at a discount to the value of its Asian assets alone.
However, the solution offered by Starboard goes no further than unlocking value that is already there and in my view, substantially increases risks.
There is rationale for a merger with AOL but the vast majority of mergers of this type don't work and could actually end up costing shareholders money.
The real solution for Yahoo! is to find a way to return the company to revenue growth.
This basically means taking Yahoo! superb position in the fixed line Internet and migrating it into mobile.
It is in mobile where the growth is and where advertisers are spending their marketing money.
Yahoo! has made the right acquisitions as it position in Digital Life is now excellent but it has badly failed to make anything of them.
If Yahoo! can migrate its usage into mobile, revenue would start to grow again, the discount would correct and shareholders would be happy.
Furthermore, shareholders would be inclined to hold the stock for the long term rather than getting out as soon as the value is released.
This is what the acquisition strategy has tried to achieve but poor execution has prevented Yahoo! from integrating its acquisitions into a coherent ecosystem
This is what is desperately needed to turn this company around and this is where shareholders should be pushing management to act.
Yahoo! remains attractive but the inability to execute its vision is showing through in the results and shareholder patience is already wearing very thin.
I would look at Google or Microsoft for holding positions in the mobile ecosystem and think that the time has come to take Alibaba-related profits on Yahoo!.