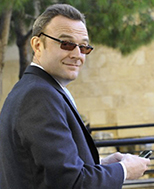 Microsoft's Band is another shot at the ecosystem.
The new Microsoft Band is not much to look at but if it is robust and works as well as promised, then it could see some traction.
Microsoft Band is the latest is a slew of products that promise to monitor the key aspects of user's daily lives and help keep them on the straight and narrow.
There are two main problems with almost all the pedometers, activity trackers and heart rate monitors that have been launched date:

First. They are not robust enough. Nike's Fuelband, Fitbits and many others suffer from a relatively short life-span.
The review columns have plenty of complaints regarding the short life span of these devices and this true for almost all of them.
Activity trackers have to be able to withstand the hurly burly of an active lifestyle and if they break after a couple of months users are just going to give up.
Second: The sensors need to work on all people all of the time and be accurate.
The performance of heart rate sensors to date has been very far adrift of what is needed to be commercially viable.
This is why the Samsung Gear Fit does not offer continuous heart rate monitoring. It can't hold the signal.
Accuracy is also critical. This is especially the case if the data is going to be used by health providers for monitoring, diagnosis and prevention.

If the Microsoft Band can address these two issues then it has a god chance of getting some traction.
Microsoft's hardware products to date are surprisingly robust.
The Lumia devices, foldable mice and keyboards, while not water or coffee proof, are well made and withstand a lot of abuse.
The Microsoft Band makes no attempt at being waterproof, but its pedigree gives me confidence that it will be robust enough for the use case for which it has been designed.
The key will be how well it can pick-up and hold the heart rate signal.
The Band needs to be able to do this flawlessly on everybody all the time.
If it fails, then it will be useless as a fitness monitor, it will get terrible reviews and no one will buy it.
I am hopeful that Microsoft has made sure that this will work and assuming it does, then it has also a pretty good back-end lined up.
The Microsoft Band goes hand in hand with Microsoft Health which is very similar to Apple HealthKit and Google Fit in that it will collate, store and analyse all of the data regarding a user's activities.
At $199 the device is fairly priced as long as it functions as promised.
Microsoft Band will work with all three smartphone platforms and launches with a range of partners and apps aimed at fitness.
This confirms that this is about developing the Microsoft ecosystem as a place to live one's Digital Life rather than an enticement to buy software.
This is long game.
If users start spending more time with Microsoft services on Android and iOS then one day they might just be enticed to make the switch to a Microsoft product.
At the moment this is the only way that Microsoft will really be able to monetise these users as it has yet to go down the Google route of selling user data to advertisers.
The Band is not the sexiest product out there but if it works as advertised, it will be one of the best performers.
I remain positive on Microsoft's ambitions in the ecosystem as it has the right strategy and buy in from the top to make it work.
The biggest problem remains the marketing message which still needs to be updated to address the realities of the market where it now finds itself.