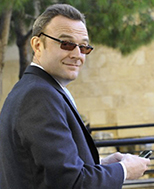 Replacing Google as default for search is a big trade off.
If Apple's deal with Google for search is due for renewal next year, there is every chance that Apple will switch to another search provider.
In reality, there is only one choice as both Bing and Yahoo! are powered by the same search engine owned by Microsoft.
I have long been of the opinion that Apple would dearly love to remove Google from all of its ecosystem but it is a decision not to be taken lightly.
Google and Apple are the main ecosystem providers and their business models for monetisation are completely different.
Apple monetises its ecosystem through premium pricing of hardware while Google monetises through targeted advertising.
Access to Google services is a very important part of the iOS user experience and as a result, I think that Apple will consider its options very carefully before deciding whether or not to ditch Google.
This is because at the moment losing Google services would encourage a meaningful number of loyal Apple users to consider using Android.
Consequently, I think that no matter what happens users that really want to use Google for search will be able to, but the removal of Google as the default search provider has meaningful implications for Google.
This is due to the fact that the vast majority of users use whatever the default search provider is and never bother to change it.
RFM estimates that in 2015E, Google will generate $10.2bn in mobile advertising revenues from iOS alone.
With the vast majority never bothering to change their default search provider, the loss of this hallowed position is likely to put a meaningful dent in revenues due to a market share loss to the new provider.
This is not a decision that will be taken lightly as the Google search experience is still meaningfully better than those of its competitors and consequently the user experience on iOS risks not being as good as it was before.
In this case I think that the advantages of removing Google outweigh the risks, especially as users can still switch to Google should they choose to do so.
Furthermore, Sirs has already switched to Bing and it looks very likely that the other parts of Apple's ecosystem will follow suit when they have the opportunity
This is a negative for Google, as it derives a lot of revenue from iOS and there is nothing that it can do should Apple decide to remove it entirely.
This is the single biggest risk to the upside in Google's revenue and profit forecasts.
With Samsung on the ropes, Google has the upper end of Android nicely under its thumb and there is very little risk to those revenues now.
Microsoft and Yahoo! are the likely winners should this deal happen and of the two, Microsoft is by far the best bet over the next 12 months.