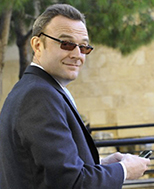 Netflix will become even higher risk in the future.
Netflix's failure to renew its streaming deal with Epix (Lionsgate and MGM) is a clear sign that Netflix intends to move up the value chain to become a purveyor of exclusive content.
This is a far riskier proposition than being a distributor of content that is easy and fun to access and use but I think that Netflix has little choice. .
This is because without exclusive content, Netflix will become commoditised as content creators have now realised that it is not that difficult to allow subscribers to stream content directly from them.
Hence, Netflix now prioritises proprietary content while Epix is interested in getting its content onto as many platforms as possible.
This impasse is what I suspect led to the deal not being renewed.
This will leave Netflix's catalogue with a significant dent in it come September and Epix's content will be moving to Hulu.
I suspect that a number of Netflix's customers will not be happy that content that was previously included in their subscription will have to be paid for again with a subscription to another vendor.
This is where the strength of Netflix's own content becomes of critical importance.
It must continually provide its users with compelling and exclusive content such that they remain willing to pay the monthly fee.
The problem with this is that the movie and TV production business is really hit and miss.
Content that is expected to be wildly successful often bombs and content that is considered to be of limited interest occasionally does far better than expected.
In order to counter these swings the content creator must have a wide stable of content to catch the outliers as well as very deep pockets to finance the troughs.
Netflix has two big hits on its hands (House of Cards and Orange is the New Black) but it also has a long list of content that not many users have ever heard of.
This is why once attention turns from subscriber growth to profitability, investors are going to realise just how risky this business had become.
To be fair to Netflix, this is the only direction that it could reasonably have moved towards as its starting proposition as a content distributor is already showing signs of commoditisation.
Furthermore as content creators realise that they can distribute their content over the Internet, the need to have Netflix in the middle will vanish.
Consequently, I think that in the long term investors need to look at Netflix as a film and TV producer with the rollercoaster financial performance that goes along with it.