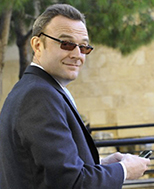 Product launches make noise but change very little.
Google updated its Nexus devices at an event held yesterday with two new handsets, a professional tablet and two new Chromecast devices.
These new devices will all ship with the new version of Android (6.0, Marshmallow) that was launched at Google i/o in May 2015.
For other devices, Marshmallow will be available as an update from October 5th.
Huawei was the manufacturer of choice this time around which comes as no surprise as it has, once again, become a leader in Android having gained 310bp of smartphone share in Q2 15A.
The two new devices, the Nexus 5X and 6P offer premium specification and functionality at a pretty reasonable price.
Both devices sport a new component called "Android Sensor Hub" which is very like the component in the iPhone and can tell with high accuracy what the user is doing.
This allows the user experience to be adjusted to cater to that activity be it walking, running, cycling or even getting in a car.
The new Chromecast device includes a new small one that it is optimised for music streaming as well as an update to its well established big brother.
These new devices come with a completely new app that aims to offer access to more content, improved functionality as well as a better user experience.
Finally, the Pixel C tablet which has a 10" display as well as a detachable keyboard and takes aim at the iPad Pro that was launched earlier this month.
At 10" this is a poor substitute for the iPad Pro (upon which Office will not be free due to screen size) and is miles adrift of the Surface Pro 3 which remains the only game in town when it comes to replacing a laptop.
Even with deeper relationships with the operators, these devices are unlikely to get much volume but they do serve as a good option for any user that wants a purely Google experience.
Google estimates that there are 1.4bn Android devices of which 1.0bn are running its ecosystem.
I am inclined to think that Google has underestimated the total somewhat as there are 400m users in China alone almost none of whom are using Google.
There are substantial numbers of non-Google devices outside of China which seem to have slipped through the cracks somewhere.
Unfortunately these new devices and updates do nothing to fix the two biggest problems that Google faces.
These remain:

First: software distribution. Google remains unable to distribute its software to devices already in the market.
Penetration of Android 5.0 is still only 21% despite being available for over a year meaning that Marshmallow (6.0) is unlikely to be in the hands of the majority of users before 2019 or 2020.
This renders the innovations that Google has put into Marshmallow virtually useless as its competitors will have reversed engineered the good bits and put them into the hands of users long before then.
Second: fragmentation.
Android remains very fragmented which hobbles the quality of the user experience and makes life very hard for developers.
Nexus devices have consistent software but they will make up such a small portion of the market that they are likely to be a rounding error.

RFM research has concluded that these two issues combined with Apple gaining share at the high end, have been responsible for a decline in developer commitment to Google's ecosystem (see here).
The decline in developer commitment is a worrying sign and may be the beginnings of Google losing its iron grip on Android handset makers and mobile operators.
This could hurt its ability to generate revenues from Android devices potentially making RFM's medium-term forecasts for Google too high.
With the shares at fair value and potential disappointments on the horizon, I think it is time to take money off the table.
There remains far more opportunity in Microsoft.