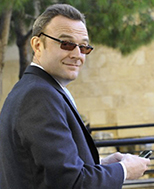 Microsoft and Amazon have a very different day.
Microsoft FQ2 16A.
Microsoft reported steady results as Office 365 and cloud services more than offset the weakness in the PC market.
FQ2 16A revenues / Adj-EPS were $25.7bn / $0.78 compared to consensus at $25.3bn / $0.71 and RFM at $26.5bn / $0.71.
Adoption of Windows 10 continues at a better pace than Windows 7, with 200m active devices and usage of those devices also showing encouraging signs.
Bing reported some progress in gaining 1% point of share to 21% in the US Search market but 30% of Bing's search revenue now comes from Windows 10 devices.
Given that Windows 10 makes up less than 15% of Windows devices in the market, this implies that the usability improvements are encouraging users to interact with Microsoft's services to a greater degree. .
This bodes well for the adoption of Microsoft as the go to ecosystem for Digital Work but the questions marks around Digital Life remain.
Both Office 365 and Azure grew far faster than the corporate average and it was these two businesses that drove stronger than expected revenues.
Guidance for Q3 16E was in line with expectations with revenues of $21.6bn – $22.2bn just shy of consensus at $22.2bn but further progress on expenses and optimism on the cloud won the day.
I suspect that there was also considerable relief that the outlook for the coming quarter was less impacted by economic volatility than many had feared.
The net results was 4% rally in the shares in after-hours trading.
Microsoft's stock has had a difficult start to 2016 but these results indicate that it is likely to weather difficult times better than average.
Microsoft's progress on the consumer ecosystem remains slow and hesitant but fortunately the valuation demands no success at all.
Hence, there remains plenty of upside if it gets it right but still some upside even if it does not.
This is why I continue to like the stock going into 2016.
Amazon Q4 15A
I consider Amazon to be a true unicorn but one that has a habit of stabbing itself with its horn.
Amazon once again dashed the market's hopes by returning once again to investment mode at the expense of profits.
The result of this slip was a 13.4% decline in the share price I after hours trading.
Q4 15A revenues / net income were $35.7bn / $743m well short of consensus at $36.0bn / $1.3bn.
The revenue miss was almost entirely due to the strength of the US$ but the real problem was profits which missed expectations by 43%.
Amazon's continued push into faster fulfilment as well as technology and content investments did the damage as both of these saw increases as a percentage of revenues.
Amazon Web Services put in a mighty performance growing 69% YoY to $2.4bn with operating margins of 28%, but seeing as this is still a very small part of revenues its positive impact was minimal.
Q1 16E guidance was also soft with revenues / EBIT of $26.5bn – $29.0bn / $100m – $700m well short of consensus at $27.7bn / $800m.
Amazon has two truly mighty machines: its retail offering and Amazon Web Services and both of these are doing very nicely.
However, it is the other areas that need urgent attention.
The profits from these two power houses are being spent on a haphazard series of experiments and futuristic thinking for which there are virtually no results no date.
For these experiments to pay off, Amazon has to think about how to put these investments together in a way that creates a cohesive, integrated and delightful experience for users outside of online shopping.
This means that Amazon needs to understand the importance of the Digital Life ecosystem and of this there is no sign.
Consequently, I think that Amazon's outlook remains as haphazard as its strategy making for more wild swings on results days.
At 110x 2016E PER, there is absolutely no room for error making this a stock to avoid this year.
Apple's earnings are far more reliable and are more than 90% cheaper making it the obvious choice when choosing between these two.