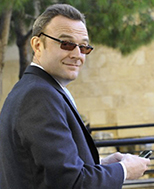 Steady evolution but existing issues still need fixing. 
Microsoft launched a series of evolutionary upgrades to Windows 10 and the devices that run it, at its /build// developer conference in San Francisco.
This is the key conference that gives visibility on where Microsoft intends to take its ecosystem over the next few years.
While there were some interesting developments, some of the short comings of the existing ecosystem were not addressed.
The top spots were:
Conversations as a platform.

This is all about instilling a much greater level of intelligence into every device that user has including iOS and Android.
The initial focus is around intelligent bots that can allow companies offering goods and services to interact with their customers much more easily.
The fact that bots are very early stage is highlighted by Microsoft's Tay AI chat bot on Twitter that this week became a racist, sexist bigot as it was not smart enough to realise that this was inappropriate.
The failure of this experiment is why things are starting off from a very simple premise.
Microsoft has launched a framework for creating simple bots (.bot) that can take orders and recognise a degree of natural language and escalate to a human when it gets stuck.

Cortana

As part of this initiative Cortana is becoming much more deeply integrated into Windows 10 and developers can also integrate its intelligence into the apps that they build.
This will work on Android right away but typically it will not work for iOS just yet, although Microsoft promised that it is coming.
These are all the right places to take Cortana, but I still think that its fundamental intelligence needs a lot of work as it still significantly underperforms Google Now when tested.
This is evident in the fact that usage of Cortana remains very low.
There are 270m installations of Windows 10, each of which is Cortana enabled, not to mention Cortana's presence on non-Windows devices.
However, it is only answering 1m questions per day meaning that only 0.37% of users use it daily.
In the best case scenario this translates into 11% of users using it once per month but I suspect that in reality this is more like 3-5%.
To get this number up, Cortana must become much smarter although the deeper integration launched here will help.

Windows 10 Anniversary update.

The uptake of Windows 10 is coming along very nicely with 270m devices using the code with an encouraging trajectory of take up.
Against this backdrop, Microsoft will enhance certain aspects of the experience to make it more intuitive and easy to use:

First. The Windows Hello authentication used for logon will now be available to be embedded into apps and websites visited with the edge browser.
Second. The use case for Ink will be enhanced such that the pen can be used to make smart annotations in multiple programs.
The aim here is to encourage the 72% of users who still use pen and paper to switch some of that usage to digital.
Third. Xbox One games will run on all Windows 10 devices and the device can now be used as a development environment to make development more straight forward.
Fourth. Visual Studio will be usable to develop apps for all platform including Android and iOS.
This went hand in hand with improving on the code converters making porting across these platforms more straight forward.

Cross device.

The story of services and functionality working across all platforms was hammered home at every opportunity.
This includes not just the whole range of Windows 10 devices, but also iOS and Android devices as well.
The demonstrations of services jumping from one device to another and one platform to another were seamless and convincing.
This reinforces my view that when it comes to cross device and platform, Microsoft has developed an edge over its competitors that needs to be aggressively marketed to users.

While these updates represent a solid evolution of the offering, there was no real mention of addressing some of the real problems that the Windows ecosystem is still grappling with.
This includes the problem that all of the data that Microsoft collects from its different services is not pooled together to provide a better and more enhanced experience for the user.
Furthermore, integration between the different services also remains very weak and it remains to be seen how well these new updates address these problems.
The net result is a good development path for the ecosystem, but the existing problems have to be fixed before the user experience will really shine and appeal to users.
Microsoft is still quite attractive even it completely messes up its ecosystem strategy, making it a very low risk investment with plenty of upside, should it get it right.