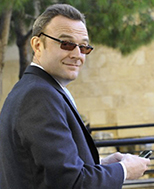 Both companies being driven by new businesses.
Amazon Q1 16A. 
Amazon reported mighty results as Amazon Web Services (AWS) grew by 64% YoY and contributed 55% of group EBIT despite only contributing 9% of total sales.
Q1 16A revenues / EBIT / EPS were $29.1bn / $1.07bn / $1.07 compared to consensus at $28.0bn / $584 / $0.59.
Although North America remained nicely in the black, the star of the show was AWS which generated $604m of EBIT accounting for almost all of the better-than-forecasted performance.
This strength also underpinned guidance where Q2 16A revenues / EBIT are forecasted to be $28.0bn – $30.5bn (midpoint $29.25bn) / $375m – $975m (midpoint $675m) compared to consensus at $28.4bn / $878m.
Despite being the largest cloud provider, AWS gained share during the quarter and is increasingly looking unassailable.
Its huge scale gives it the ability to offer global points of presence which meaningfully improves performance for global companies and it can offer this with lower costs.
Furthermore, the underlying AWS software upon which companies build their IT operations is unique to Amazon, making switching an increasingly difficult and painful process.
Hence, I think AWS will remain strong which combined with the steady progress in retail keeps the overall growth outlook good.
However, the same cannot be said for the valuation.
Even including an EPS upgrade to $6.00 for this year and $10.00 for 2017 leaves the company trading on 113x 2016E PER and 68x 2017E which is way too rich for my blood.
Amazon's valuation has been discounting future profits for years and now that they have arrived, it is time for the multiple to begin returning to normal levels.
Baidu Q1 16A. 
Baidu reported results that met expectations as profits from its dominant position in search continued to be ploughed into O2O and online video investments.
Q1 16A revenues / EPS were RMB15.87bn ($2.4bn) / RMB2.2bn ($340m) almost exactly in line with consensus at RMB15.82 / RMB2.2bn.
Mobile now makes up 60% of revenues with Baidu's ecosystem reaching 663m users meaning that 89.1% of Chinese mobile users are actively using its services.
However, this looks like a slight loss of market share as in Q4 15A, RFM estimates that Baidu's ecosystem reached 89.8% of China's smartphone users implying that Qihoo and Sohu have gained slightly in Q1 16A.
Despite this, search remains hugely profitable but much of this is being ploughed into new businesses
This becomes apparent when one separates search from the O2O (online to offline) and online video businesses.
Group adjusted operating margins were 15.4% but if losses from O2O and online video are removed, search margins are revealed at 49.8%.
Between them, these two businesses have racked up RMB5.7bn in losses in one quarter alone making them a very big bet as far as investors are concerned.
Fortunately, the outlook for growth in 2016 is reasonably good meaning that search is likely to keep delivering cash for investment.
Whether Baidu can deliver returns on these investments remains to be seen but comments on the call such as "we will worry about the business model later" do not inspire confidence.
Baidu has a stranglehold on the Chinese search market very much like Google does in the rest of the world.
However, it is there that the similarity ends as Google clearly understands the ecosystem and Baidu does not even though it has reasonably good coverage of the Digital Life Pie.
Consequently, everything depends on Baidu being successful with Nuomi, its platform for e-commerce and O2O services.
Here its GMV of RMB16bn is just a fraction of Alibaba's at RMB964bn meaning that it has to do something very special to prevent itself from being squeezed by its much larger and more powerful rival in e-commerce and O2O.
Baidu is likely to remain volatile while its develops it services beyond search.