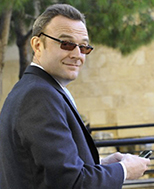 An experiment that might finally work. 
Following Amazon's painfully expensive experiment in distributing its ecosystem with a mobile device of its own, it has sensibly decided stick to services with an innovative approach to device subsidisation.
Amazon is offering its Prime subscribers a very good deal to get their hands on a brand new Moto G4 or the much cheaper BLU R1 HD.
The Moto G4 will retail at $199.99 and the BLU R1 HD at $99.99 but if Prime subscribers elect to have advertising pushed to their lock screens, the price falls to $125 and $50 respectively.
This is an innovative approach and one that has already proven to be successful in emerging markets.
Advertising pushed to the lock-screen is considered by marketers to be extremely effective as it is the first thing that the user sees more than 100 times per day.
Consequently, they are prepared to pay a surprisingly high price for this piece of real estate meaning that the subsidy is likely to be comfortably paid for over the expected life of the phone.
Amazon is also using this opportunity to install its ecosystem onto the device, although in this regard it will be playing second fiddle to Google.
These devices are Google Mobile Services (GMS) compliant meaning that Google Play and Google's other mobile services will be installed on the device and they will be set as default.
I think that this is why Amazon is pushing this deal to its Prime subscribers.
These users will have an awareness of and incentive to use Amazon's services as they will have already paid for some of the content that is being offered through these apps.
Furthermore, as Prime subscribers they will also be heavy users of the shopping service which should work extremely well as it will have been installed and optimised at the factory.
Amazon's media consumption services and its shopping services are on the device but the Amazon App Store and the Silk browser appear to be missing.
This comes as no surprise as Silk competes with Chrome and the Amazon App Store is the runaway leader in the race to challenge the dominance of Google Play in developed markets.
This is the problem of trying to compete on the platform owned by a competitor but this looks a lot better than losing more than $1bn on a device that no one buys.
I have long been of the opinion that the end result of Amazon's foray into software platforms would be it launching its ecosystem upon the hardware of others.
This makes sense because Amazon's model in hardware has been to sell the device at cost to make money on the content and services that it sells on top.
Consequently, making its own devices has never made any real sense other than to ensure that its services were making it into the hands of users.
By targeting its existing user base, it is ensuring that its services will be used on mobile which could serve as a beachhead from which to expand its reach to non-Prime users.
Amazon's strategic direction as it relates to the ecosystem is improving.
This move in conjunction with the decision to create an ecosystem-only tariff (see here) on Amazon Prime demonstrates that Amazon is finally getting to grips with digital services outside of e-commerce and cloud.
Amazon still has a very long way to go as its understanding of the detailed elements of the ecosystem still appears to be rudimentary but this is yet another sign of progress.
Unfortunately I still really struggle with seeing any value for investors in Amazon's shares (see here) as at the end of the day the story in Amazon is about making money from its retail e-commerce operations.
Consequently I continue to prefer Samsung, Baidu and Microsoft for the short term and Facebook, Apple and potentially Tencent for the long term.