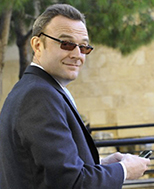 Amazon has the makings of a major force but still has a long way to travel.
Many people still consider Amazon to be just an online retailer but look under the hood and one will find the grass roots of a digital empire in construction.
Amazon has just announced an exclusive deal with Viacom where many of its shows from MTV and COMEDY CENTRAL will now be only available on Amazon Prime.
This deal follows the expiration of Viacom's deal with Netflix and will include kids programs like Dora the Explorer and SpongeBob SquarePants.
Exclusive content is incredibly important because it will bring users to the platform in a way that almost nothing else will.
At the same time, analysis carried out by e-marketer suggests that Amazon's revenue from advertising will reach $835m this year.
This is a drop in the ocean for Amazon in the grand scheme of things, but it is growing fast and is in indicator of the growing importance of Amazon in the lives of its users beyond retailing.
When one adds in the strategy around Kindle, the significance of the SILK browser and Amazon Web Services one can see that Amazon is quietly investing to build what could become a major digital force.
Several major hurdles remain.
Firstly, while Amazon sells its devices cheap (0% gross margin according to RFM estimates), they haven't sold in anything like the kind of volumes I was hoping for.
This is a problem as Amazon wants to create an ecosystem within which users will be able to live their Digital Lives but unless it can get its devices into the hands users its reach will be limited.
Amazon uses its own version of Android to deliver its offering meaning that it needs to sell a device to get it into the hands of the user.
Secondly, Amazon does not yet have anything like enough services on offer to be considered a proper ecosystem.
Google, Microsoft and Yahoo! have services that cover between 66% and 74% of all the time that users spend on smartphones and tablets whereas Amazon has a relatively puny 21%. (see Mobile Software – iRobot for more details on this analysis)
This means that Amazon still has substantial investments to make if it intends to compete against the big names in this segment.
Amazon has the content, the user base and the cash to invest to become a major player but it still has a long way to go.
The problem is that its valuation already assumes some degree of success.
I would wait for a bump in the road in the building of this empire before investing in the story.