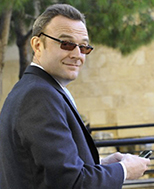 Smartwatches and wearables remain in Limbo.
Tag Heuer, Intel and Google have launched the Tag Heuer Connected smartwatch at an event in New York on November 10th.
The device will be available as a limited edition of 50,000 pieces and will retail at $1,500.
The device is powered by Intel, which I suspect has fronted most of the hardware costs, and runs Android Wear meaning that Google probably did most of the software.
Consequently, Tag Heuer will have set the specification and design but very little else.
The launch of this device followed a management change at Tag Heuer and a new strategy to target the affordable luxury segment.
When it comes to Swiss watches, affordable luxury has some cross over with the kind of price points that one is seeing for the Apple Watch and it was this thinking that drove the launch of this product.
The aim of this device is to create a connected watch that has character which is something that many Android wear devices sorely lack.
Consequently, it is the same size as a mechanical watch with the case and strap being made from the same materials as the original.
It also has a very low power mode that uses ambient light to reflect off an always on monochrome representation of a watch face making the smartwatch function much more like a regular watch.
I have been previously concerned that this move could damage the Tag Heuer brand but this is now less of an issue given its recent move to shift its brand towards more affordable luxury and younger consumers (see here).
However, the biggest problem in my opinion remains obsolescence.
Even for the most fashion conscious glitterati $1,500 is a lot of money to spend on a device that is very likely to be obsolescent within a year.
This is a major reason why I suspect that the very high end Apple Watches have sold in tiny volumes.
At 50,000 units, the Tag Heuer Connected is really an experiment in order to give the company an idea about how it should protect the segment of its portfolio that overlaps with smartwatches from other companies.
I continue to really struggle with the case for smartwatches as they are little more than a remote control for a smartphone and remain a solution looking for a problem.
Even Apple has failed to come up with a compelling reason to buy an Apple Watch and until it does I think this whole segment will remain in Limbo.
It is at this point that they will make a valuable contribution to the ecosystem but until then, the digital consumer ecosystem will continue to be defined by the smartphone and the tablet and very little else.