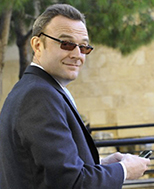 Fluffy sentiment has nothing to do with the company.
The weakness in Apple's share price and the souring of sentiment around Apple has nothing to do with Apple and everything to do with the bulls getting overexcited about the so-called super cycle that was supposed to be driven by the iPhone X.
I have long been of the opinion that while the iPhone X is a good product, its price and the fact that it is not revolutionary would prevent it from driving a super cycle like the iPhone 6 in 2014 (see here and here).
This reality is now beginning to dawn on the market resulting in estimate cuts from the most bullish and some softness in the share price of the company.
Based on analysis I conducted in December, I concluded the following:

First: uptake of the new generation of iPhone has been slower than last year and there has been no sign of the much hoped for super cycle.
I think this was mainly driven by the very high price of the most desirable product which lead to many users waiting until the full screen penetrates to the lower priced segments.
Second: the higher price of the iPhone X has offset the some of the impact on Apple's revenues of a slower uptake compared to the iPhone 7, but it has not been enough to allow the company to soundly beat market expectations.

Unfortunately, Apple bulls had assumed that volumes would not be impacted by the higher price of the product, leading to record revenues and earnings.
I have always thought that this as very unrealistic and it is this resetting of expectations that has been responsible for the recent weakness in shares and the souring of sentiment.
This has absolutely nothing to do with Apple itself and I am expecting a reasonably upbeat set of results when it reports FY Q1 18 earning on Thursday February 1st.
That being said, the long-term valuation case for Apple relative to its faster growing peer group is now much more difficult to make.
Consequently, I am less interested in the shares as a long-term holding and would prefer to look at Tencent as the most powerful ecosystem of them all or Baidu as the cheapest AI investment available.