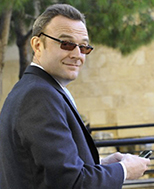 3 big leaps but with potentially with fatal flaws?
Microsoft, Huawei and ZTE have both expanded their hardware ambitions but I question whether enough attention to details has been paid to really make these products really successful.
Microsoft Surface Book 2
Microsoft has launched a worthy successor to the Surface Book, substantially upping both the power and the size of the device.
Two versions are now available: a 13.5" device and a 15" device and on both, the hinge has been meaningfully reinforced to ensure that the screen does not wobble during typing.
Microsoft has included the latest Intel processors as well as graphics from Nvidia to ensure that the performance of these devices is top notch.
Both screens detach from the keyboard to become a tablet but it is here where my concerns lie.
The single biggest fault of the original Surface Book is the fact that when the screen is detached, the keyboard stops working.
In my opinion this removes the best use case for a tablet PC which is to turn it into a portable desktop experience. (see here).
This provides both a more productive and a much healthier computing experience.
One can attach a separate Bluetooth keyboard to the product, but when the user has already paid up for a great keyboard, this seems to be a slap in the face.
It is not clear if this functionality has been enabled on the Surface Book 2 but I think it will make the difference between the perfect product and one that continues to follow the obsolete laptop dogma (see here).
ZTE Axon M
After being very rapidly commoditised in audio, ZTE is having another go at differentiation with the launch of a dual screen device not very unlike the YotaPhone.
The main difference is that ZTE is using two full colour smartphone displays compared to the YotaPhone whose secondary display uses e-ink for an always on display that consumes no power.
The aim here is to provide the screen of a tablet in a form factor that can fit in one's pocket rather than a back-up for when battery is running low.
Google Apps can recognise when the second screen is active and run in tablet mode across the two devices but how this works for other apps is unclear.
Furthermore, the screen bezels mean that there is a big black line in the middle of the larger display which will be very distracting.
I am a big believer in larger screens on pocket sized devices, but until a single screen can unfold or unroll into a large rigid display that is as good as a tablet, this segment is likely to struggle.
This has been tried several times in the past and every time the hardware and software compromises being made to get two screens onto a single device have fatally hurt its appeal.
I don't see how the Axon M will be any different and consequently remain cautious on its outlook.
Huawei Mate 10 / 10 Pro.
Huawei launched its 2017 flagship products with both devices sporting edge to edge displays pioneered by Samsung and copied by everyone else.
The main difference other than slightly different proportions between the devices, is that the Mate 10 is LCD while the 10 Pro uses OLED.
However, the main differentiator that Huawei is going for this year is AI where both devices use the Kirin 970 chip, developed in house at HiSilicon which have an onboard neural processing unit (NPU).
The idea is that using AI, Huawei claims to be able to prevent the inevitable performance degradation that occurs on all smartphones after months of usage.
This aims to compete with Apple's Bionic A11 chip that also has an NPU but I don't think NPUs are particularly difficult to produce.
AIs work best on processes that are massively parallel which is why GPUs are so good at running AI.
This not very difficult to achieve anymore.
What is far more difficult, is the creation of the AIs themselves to improve the user experience and here I think Huawei is badly lacking.
Huawei has no real AI expertise to speak of and on its own devices it will be competing against the global leader, Google.
Consequently, while Huawei may be able to win some short-term differentiation by providing an optimal place to run AIs, this will swiftly be copied leaving Huawei still struggling for differentiation.
To really make it, Huawei has to differentiate through the AIs itself and produce algorithms that provide rich and intuitive enhancements to services running on its phones.