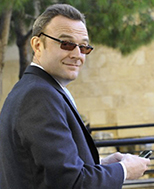 Both need to change to fare well.
Baidu
Baidu reported good Q4 17 results as it has put the tribulations of the 18 months squarely behind it and is now focused on becoming the preeminent supplier of AI in China.
Q4 17 revenues / EPS were RMB23.6bn ($3.74bn) / RMB15 ahead of consensus estimates at RMB23.1bn / RMB13.
With its new, more selective ad system in place, advertisers have returned to Baidu pushing mobile revenues to 76% of total revenues, an all time high.
2017 has been a difficult year for Baidu and its strategy is now shifting away from being a fully fledged digital ecosystem to focusing on products and services that are entirely driven by AI.
This is why the loss making iQIYI has now filed for an IPO and I suspect that 2018 will see some movement around the ownership of its other loss-making e-commerce venture; Nuomi.
Baidu's main AI assets are Apollo (autonomous cars) and Duer OS (digital assistant) and in both of these, it is far and away the leader in China.
How these will be directly monetised is less clear at this stage, but it is clear that:

First: AI will have a major impact on the ability of ecosystems to differentiate their digital life services over the next 10 years.
Second: Baidu is the undisputed leader in China with both Tencent and Alibaba miles adrift despite protestations to the contrary.
This puts Baidu in a very strong position to partner or licence to the have nots in Chinese AI (which I think is almost everyone).

Hence, with the core business now looking to be back on an even keel, I think Baidu represents a cheap entrance to what its likely to be the biggest investment theme of the next decade.
Uber
Uber reported headline figures for Q4 17 that showed some progress but, in my opinion, not nearly enough given its precarious position in the US market.
Q4 17 revenues and adj-net income were $2.2bn / LOSS $1.1bn compared to $2.01bn / LOSS $1.46bn in Q3 17.
This is good progress but given the sizes of the losses in Q3 17 and the fact that they increased meaningfully from Q2 17, I suspect that there was a lot of low hanging fruit.
Revenue growth remains strong at 66% YoY but all of the momentum at the moment remains with Lyft which I see as being on the cusp of causing Uber real problems.
Uber is still dominant in its home market (USA) with 66% share but this is substantially down from the 80% that it held at the beginning of 2017.
Ride hailing businesses are marketplaces and as such are subject to the rule of thumb that I described over two years ago which still seems to be holding firm.
This rule of thumb states that a company that relies on the network must have at least 60% market share or be at least double the size of its nearest rivals to begin really making profit (see here).
Hence, I see 2018 as the time when Uber needs to begin looking at making some money and at the same time ensuring that Lyft bleeds badly just to stay in contention.
Uber needs to neuter Lyft now because when it comes to autonomous driving, Lyft is a long way ahead via its relationship with Waymo.
Should things stay the way they are, then Uber could be in real trouble once autonomous vehicles start making a real appearance in the market.
Fortunately, this is still some way off but the threat is there and 2018 needs to be a year where Uber re-establishes its dominance in the home market especially after embarrassing loss of both China and Russia.