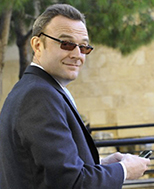 Alibaba is going guns blazing for offline. 
Alibaba appears to be moving into offline retail much more quickly than I had anticipated as it is complimenting its $2.6bn bid for Intime Retail Group with a partnership with Shanghai Bailian Group which owns 4,700 stores in 200 cities in China.
This is a huge step forward from its bid to acquire Intime retail group which operates 29 department stores and 17 malls predominantly in the eastern province of Zhejiang where Alibaba's home town of Hangzhou is to be found.
The idea of this partnership is to bring Alibaba much further into the physical world where $4.5tn of sales are still transacted every year as well as improve the offline experience that users have in Bailian stores.
Chinese retail is a fragmented and frustrating experience where decent service and information with regards to inventory, product lines and so on is routinely not available.
Consequently, when an online offering appears where this information is clear and one is able to easily purchase goods and know when they will be delivered, shoppers quickly adapt.
It is the terrible offline experience with regards to almost everything that has allowed so many other goods, services and activities in China to rapidly migrate from offline to mobile.
It these problems that Bailian hopes to fix via its partnership with Alibaba which will provide its technology, its understanding of logistics and its processing systems to modernise Bailian.
In return Alibaba will get a large physical presence, access to shopper data and the first big launch for Alipay into the physical world.
There are two large mobile payment systems in China.
One is Alipay which utterly dominates B2C e-commerce and the other is WeChat Pay which dominates peer to peer as well as payments to shops, restaurants and service providers.
This move will bring Alipay into direct competition with WeChat Pay for the first time.
I think this partnership will be similar to the potential deal with Intime but on a much larger scale.
I have previously viewed (see here) the potential deal with Intime as an experiment in retail which would then be rolled out more widely once it had been proven to work but it looks like Alibaba is going national regardless.
Fortunately, as this is a partnership, there will not be much downside risk if it goes wrong which leads me to believe that for Alibaba, this is really about data and pushing Alipay into a new domain.
If Alibaba can have a deeper understanding of, and relationship with Chinese shoppers then it will be able to more accurately predict their shopping patterns resulting in better purchasing rates and the ability to charge a higher percentage of GMV to its merchants.
This will translate into better revenue and profit growth as was the case in 2016 where increasing monetisation underpinned a large part of the company's outperformance.
I think this expansion will be much slower in 2017, and so I remain cautious on Alibaba preferring Tencent or Baidu in China.