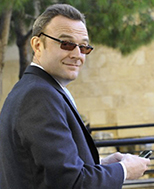 Amazon is stomping on Microsoft's patch.  
With the launch of Alexa for Business, Amazon is stomping with its size 12s all over the territory of its supposed new best friend, Microsoft and its digital assistant, Cortana.
Alexa for Business is expected to be launched next week at the AWS reinvent conference and will allow businesses to build their own skills for the digital assistant that can be used in a work context.
It will also feature all of the normal functionality such as enquiries and smart office and is expected to feature partners like Concur and WeWork at launch.
This has the scope to both generate more skills and applications for the Alexa digital assistant but also to generate increasing loyalty to AWS.
Some of these skills are likely to include integration with Office functionality such as calendar management, meeting room scheduling and so on.
If this takes off, there is no reason why this should not spread to the desktop and deeper into Microsoft's core asset Office.
The issue here is that Microsoft already has a digital assistant called Cortana, and with Microsoft's increasingly dominant position in the enterprise, this would seem to be an obvious opportunity for Cortana.
However, Cortana is struggling because it was originally designed to run on Windows Phone meaning that many of the skills that it has been taught are not relevant with the assistant sitting on the desktop.
Furthermore, Amazon and Microsoft recently announced a partnership where users will be able to ask Alexa to ask Cortana to do something and vice-a-versa.
Given Microsoft's focus on the enterprise, I have been under the impression that the future for Cortana would be in the enterprise where it can be deeply integrated into Microsoft's market leading apps.
At the same time, I assumed that the partnership would offer Amazon a way to use Alexa on the PC and in the enterprise.
However, it seems that Amazon is short-cutting its partner by going for the enterprise completely independently of its partnership with Microsoft.
The one area where Microsoft has a more relevant product than Amazon is in AI, where RFM has estimated that Microsoft is ahead of Amazon.
Consequently, I can see an eventual collaboration where Microsoft's AI is used to drive Alexa's services in the enterprise.
The only problem here is that this could result in cross over between Microsoft and Amazon Web Services who are fierce competitors in the cloud.
Hence, a deepening of this collaboration looks increasingly unlikely as this move puts Amazon against Microsoft in a new area in addition to the cloud.
Although Amazon appears to be getting the better of Microsoft, I still cannot stomach the valuation leaving me with a strong preference for Microsoft's shares.