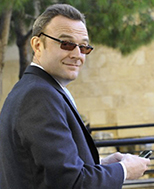 BlackBerry finally breaks its addiction to hardware. 
BlackBerry reported poor Q2 17A results, but the decision to stop internal handset development buoyed sentiment allowing the shares to rise 5%.
Q2 17A revenues / adj-EPS were US$352m / US$0.00 compared to consensus at US$390m / LOSS US$0.05.
Within this, mobile device sales made up 30% of the total and with the close down of internal hardware design, I expect this number to quietly go to zero.
BlackBerry is not closing down hardware but is instead outsourcing everything to third parties.
This is relevant because BlackBerry will no longer have access to exclusive designs which is an admission that the era of having a physical keyboard on a device is well and truly over.
I have long believed that this has happened because users have become accustomed to typing on glass meaning that BlackBerry's key differentiator became obsolete.
From here, there will be nothing to differentiate a BlackBerry from any other Android device meaning that margins will be 2-4% in the best instance.
This is not the kind of profitability that John Chen is used to and so I think he will be very happy to let hardware gently slip into oblivion.
Hence, the focus will shift to the software business which is going well revenue wise but needs attention when it comes to profitability.
At the moment it is the legacy SAF (Service Access Fees) business that is providing all of the profit with margins of 73.6% but revenues are declining fast with a 56% decline in the last 12 months.
This is because SAF has long been tied to hardware and represents revenues from the enterprise servers that support the devices and this looks to go the same way as hardware.
The Software and Services business is growing fast but is relatively unprofitable with EBIT margins of 18.6% and it is here where the real focus will be.
With two business looking set to decline to zero, the focus has to shift to the valuation of BlackBerry.
BlackBerry is currently a US$625m run-rate software business with an enterprise value of US$2.16bn (US$4.36bn market capitalisation and US$2.1bn in net cash).
That puts BlackBerry effectively on 3.6x EV/Sales with around 30% YoY revenue growth.
This is quite punchy when compared to IBM on 2016 EV/Sales of 2.0x but a bit cheaper than Citrix which is on around 4.3x 2016 EV/Sales.
Hence, I do not see much scope for BlackBerry to expand its revenue multiple from here.
The net result is that even with steady revenue growth and profit generation in the Software and Services business, a big rally is going to be pretty hard to come by even at these lowly levels.
Hence at around $8 per share, I think that BlackBerry has found a level where is should be stable.
Hence, I am pretty indifferent to the shares and would prefer Microsoft, Samsung, Baidu, Tencent or Apple.