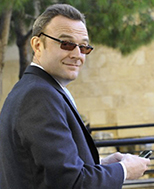 Periscope needs to dodge Facebook's live video torpedo.
Twitter reported good results but the problem with its user growth (or lack of it) is continuing to hamper its long term prospects.
Q4 15A revenues / Adj-EPS were $710m / $0.16 compared to consensus at $710m / $0.12.
Although the GAAP numbers are all negative, Twitter is nicely cash generative and has generated around $100m per quarter in 2015A.
Furthermore, with $2.0bn of net cash and cash equivalents on the balance sheet, there is no question about Twitter's financial stability.
All the problems are directly related to its ability to grow and here the company is facing real challenges.
Here, active users were flat QoQ at 320m and excluding SMS based users, the subscriber number fell by 0.7% QoQ to 305m.
This is significant because, the SMS users are not very revenue generative given the limitations they have with connectivity.
The logged-out audience who visit Twitter also remained flat at 500m users strongly indicating that Twitter's niche service as it exists today has found the limit of its reach.
Consequently, guidance for Q1 16E was disappointing with revenues / adj-EBITDA of $595m-$610m / $160m-$170m forecast.
This was below consensus revenues of $634m but ahead on consensus adj-EBITDA of $149m.
In the last three months, Twitter has underperformed its rivals, Facebook, Linked in and Google all of whom have seen the size of their user base expand.
I think that the reason for this is Twitter's very narrow focus (17% – see here) when it comes to Digital Life meaning that it can only appeal to a subset of the internet population.
This is why I continue to think that it is absolutely essential for Twitter to expand the services that it has beyond microblogging and instant messaging.
The first step in this process is Periscope which is a live video broadcast app that Twitter purchased in February 2015.
This is a priority for Twitter in 2016 and it clearly intends to develop this service into a go to place for watching live broadcasts.
If it can do this successfully, then it will be able to emerge as a competitor in the media consumption space which is where Facebook and Google are currently seeing strong revenue growth.
The problem is that Facebook is competing directly in this space and has far more resources upon which to rely to ensure that Periscope fails to really gain traction (see here).
Periscope is a long way from the kind of traction and breadth of offering to be a major force in video broadcast but that is clearly where it intends to go.
If it can make a success of this then its coverage of Digital Life would increase to 27% from 17% today and its addressable market would also increase allowing it to see revenue growth once again.
If it can become a go to place for live video, then I suspect that the user base would also, once again start growing.
This would have a big effect on both revenues and the valuation of the company but there remains a long way to go.
The media consumption space is already pretty crowded and Twitter is coming from way behind even though it is looking at the live broadcast niche.
I have long believed that sports is really the only type of content that users will pay for and hence I think that this is where Twitter must take Periscope if it is to succeed.
In the meantime, the outlook looks pretty tough and the stock is still very expensive for a company grappling with growth.
It could still go lower and I would not be surprised to see the shares break $10 per share.
It is way too early to start thinking about catching this falling knife.