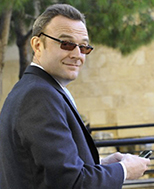 Signs point to scale making up for any gross margin weakness.
Apple has entered a new product category and is attempting to kick-start wireless payments but in the short term, financial performance will be governed by the iPhone.
All the signs are pointing to a very strong calendar Q4 for iPhone shipments as pre-orders look to have been the strongest for 2 years.
Furthermore wait-time on some versions of the device are now up to 4 weeks and both Apple and the biggest operators are reporting higher than expected demand.
This does not come as a huge surprise to me as both the iPhone 6 and 6+ address the long term problem of small screen size.
Screen sizes of 4.7" and 5.5" bring it into contention in the phablet space which Samsung created and has dominated to date.
This combined with the thinness and sleekness of the new models make them worthy competitors to Samsung on hardware alone for the first time for some time.
When I then also consider the superior quality of the iOS ecosystem compared to the others like Google, China etc., I can see why users may be tempted to switch.
I suspect that the vast majority of the iPhone 6's that are sold will be to existing iPhone users, but I am also expecting that there will be some market share gain over the next few months.
Against this, I expect that the larger screen sizes are going to result in somewhat higher BOM costs than the market has become accustomed to.
As the pricing of the device looks largely unchanged, I can see slight gross margin weakness from this device compared to older versions.
While this may cause concern, I think that scale will more than compensate for any weakness.
Market share gains should lead to greater volumes meaning that the fixed costs of R&D and Sales and Marketing will be better covered.
Hence, I am not concerned that operating margins, net margins or cash flow will be negatively impacted.
To the contrary, I expect a strong calendar Q4 where operating leverage more than makes up for any shortcoming at the gross margin level.
Apple's challenge is now to develop the exclusive Digital Life services that it needs to keep users paying over the odds for an iOS device.
This is the key to its long-term profitability but at the moment is lagging behind Google, Microsoft and even Yahoo!