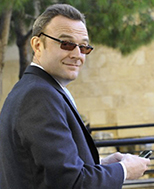 Sony needs to embrace the hackers not shut them out.
How Sony reacts to software developed to allow remote play of games on the PS4 will give a good indication of how well Sony really understands the market that it is trying to address.
A software developer known as Twisted (see here) has already modified the Sony PS4 Remote Play app to allow users to use any Android device rather than one made by Sony.
This week it is releasing a PC version of this functionality but will be charging $10 for the software.
This will allow users to play PS4 games on PCs that are on the same local network as the PS4.
This is pretty much what Microsoft has promised with Windows 10 and Xbox One.
There are two weakness in Twisted's offering:

First: Sony is perfectly capable of shutting this unofficial access down by updating the PS4 firmware.
Second: The modifications are unofficial meaning that they are tricky to implement and may not offer the best user experience.

I think that if Sony is smart it will follow Twisted's lead and enable Remote Play to run superbly on as many devices as possible.
This is because I think that the battle for the next console generation will be fought in the user experience and the ecosystem.
When I look at how well the PS4 fares against those two metrics, it is miles behind the Xbox One.
Hence, I think there is a real risk that it loses a massive amount of market share next time around.
Enabling Remote Play on as many devices as possible would enhance the appeal of the PS4 as a gaming platform and demonstrate that Sony understands where the value in this proposition lies.
Sony should either write the apps itself or allow others to do so such that any smartphone, tablet or PC can run PS4 games remotely to a very high standard of quality.
The problem with this is that it requires Sony to understand that the added value to its PlayStation platform of Remote Play will be much greater than any differentiation that this feature creates for its mobile devices.
Sony's recent re-organisation into separate legal entities (see here) effectively makes it a conglomerate once again which will make this kind of broader thinking combined with rapid action very difficult.
Consequently, I expect that Sony will close the door on these sorts of modifications believing that it can only grow its revenues by selling its own hardware.
This combined with the fact that Sony seems to be happy with its current PS4 offering (see here) leads me to believe that Sony will do nothing about its user experience and the ecosystem until it is too late.
I think that Microsoft could easily dominate the next generation of the console leaving Sony to go the way of Sega and Nintendo.