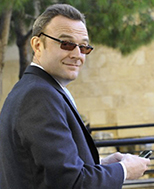 Rebellion against Google's dominance likely to fail.
Between them Google and Apple have the mobile operators in a tight grip.
The operators' failure to develop any kind of services (other than voice and data packets) that users like has meant that they are fully on track to become commoditised bit pipes.
The phones and services that users choose are freely available on every network meaning that all an operator can really compete with is price.
This has led to a situation where the real profits in the mobile industry are earned by Apple through premium device pricing and Google through mobile advertising.
There is very little that the operators can do about Apple, but there is a move afoot to try and wrest some concessions from Google.
Operators in Europe are considering doing this by installing ad blocking software in their networks which would prevent the likes of Google, Yahoo! and AOL from monetising their services through advertising.
If all the operators in every territory install this software and all turn it on at the same time, then Google will have a problem, however this is exceedingly unlikely to happen.
The problem they face is that users want Google services and I strongly suspect that this gives Google the advantage.
If a user is faced with either paying a small subscription for the services or allowing himself to be tracked then I suspect that almost all users will allow themselves to be tracked and advertised to.
Consequently, Google could reasonably react to ad blocking by turning off its services on networks where its advertisements are blocked.
There is no such thing as free internet.
Users either pay for services with cash or with personal data and if a user stops paying then the provider of the service has every right to cut the service.
I think that the problem here is that users will not take well to having their services cut and will look to switch networks to get their services back.
Operators will do anything to avoid losing subscribers and are consequently very unlikely to present users with a united front when it comes to ad blocking.
One of them is very likely to break ranks, and when it does, the entire proposition on ad blocking will come tumbling down.
I have seen this happen time and again with operators and suspect that this move to block advertisements on their networks will amount to very little.
Hence, I see no change to the status quo and think that Google and Apple will continue to earn most of the industry's profits for some time to come.
This move would be a boon to Microsoft which is well set up to monetise its ecosystem through subscription and can easily play the "advertising-free" marketing card.
However, before it does that it must bring its ecosystem to life and fix its marketing message and there remains a long way to go on both of these missions.
Microsoft and Google remain my favourite ways to play the digital mobile ecosystem.