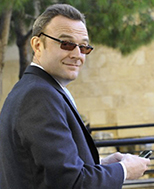 I can't get close to the IPO valuation.
LINE has filed to go public in July but the valuation that is being asked seems to leave very little on the table for those coming in at the IPO.
LINE intends to offer 40.25m new shares (including green-shoe of 5.25m) raising $1.19bn at the mid-price of $29.50 per share.
This will bring the fully diluted share count to 235m implying a market capitalisation at the IPO price of $6.93bn.
In 2015A LINE reported revenues / EBIT of $1.08bn / $17bn giving 2015A EV/Sales of 6.1x and 2015A EV/EBIT of 390x.
This means that LINE has to show substantial revenue growth and a huge improvement in EBIT just to hold its IPO price and this is where I have concerns.
LINE has 61m users in Japan which generate $1.17 per user per month in revenue and 157m elsewhere which generate just $0.17 per user per month.
LINE has done an excellent job in Japan at monetising its users through the sales of stickers and games where ARPU in the last 12 months has grown by 21%.
The problem with Japan is that the scope for real growth is limited going forward meaning that the story has to be focused on what is happening outside of Japan.
1 user in Japan is worth 10 overseas which means that to see fast growth, it needs to massively step up user growth or work out ways of squeezing more revenues from the users it already has.
When it comes to ARPU, LINE is doing exceptionally well with Q1 16A ARPU growing around 20% YoY in both Japan and overseas.
This is what is underpinning revenue growth of 21% YoY in Q1 16A as user numbers have grown very slowly in the last 12 months.
EBIT has also developed nicely during Q1 16A coming in at $47m (15.5%) but this has mostly been driven by marketing which has more than halved in Q1 16A to $21m compared to $42m in Q1 15A.
When a company such as LINE reaches scale, OPEX usually flattens off or grows much more slowly than revenues allowing growing scale to benefit the bottom line.
This is not what has happened with LINE.
The fact that marketing has been slashed by 50% YoY leads me to worry that OPEX has been cut in order to flatter the figures for the IPO.
Furthermore, it is looking for growth in countries where WhatsApp and Messenger are strong and where BlackBerry is still trying to compete.
Hence, I suspect that LINE will have raise marketing again in order to expand its position outside of Japan.
Even if LINE can grow fast with less marketing, justifying the valuation of $6.93bn looks challenging.
Facebook is expected to grow around 40% this year and is trading on a 2016E EV / EBIT of 19.8x.
If I apply this to LINE and assume that it generates $250m in EBIT this year, I can still only arrive at a valuation of $4.9bn.
Given LINE is growing more slowly than Facebook, is smaller with a higher risk profile I see no reason why LINE should trade at a premium to Facebook.
This implies that there is at least 25% downside in LINE as I have been as generous as I can when I consider the outlook for 2016E.
Facebook looks like better value and I would prefer Baidu or Tencent over LINE as they offer much more upside, faster growth and trade at a much lower valuation.
I am steering clear of this one.