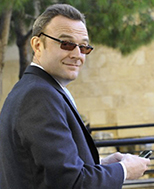 A smart speaker makes no sense.
Job postings indicate that Spotify is jumping into hardware and, while I think that a smart speaker makes no sense at all, there may be something in a device that makes dumb speakers work really well with Spotify.
Spotify is recruiting operations and project managers for hardware in a move that indicates that it intends to move into production with a hardware product that, I assume, is deeply integrated with its music service.
Everyone is going to assume that Spotify is going to launch a smart speaker to compete with HomePod, but I think that this makes no sense at all.
There are two reason for this.

First, Digital assistant. Spotify has no digital assistant in any form.
This means that it will need to use one of the others from which Alexa, Google Assistant, SoundHound and Cortana are all viable choices.
This may be where SoundHound makes more sense as it has a passable digital assistant (called Hound) as well as a music recognition service like Shazam.
Although a music recognition service does not make a lot of sense in this setting, there is a strong and well developed music related AI domain in SoundHound that may compliment Spotify's existing music AI nicely.
Furthermore, SoundHound and Cortana are the only two that do not have a competing music subscription business.
The fact that all smart speakers except the HomePod, allow Spotify to be set as the default music service pretty much obviates the point in making a smart speaker in my opinion.
Second, audio: While Spotify knows a lot about categorising and understanding music tastes, its know very little about the increasing complexities of making high quality speakers with intricate microphone arrays.
This means that any speaker that it makes is unlikely to be better than something from one of the established players like Sonos or Harman Kardon.
These speakers all have the ability to set Spotify as the default music service and so I fail to see what benefit there is for Spotify in creating a competing product.

However, there are already millions of Bluetooth enabled speakers present in the market today that are very dumb with no intelligence embedded.
Millions of Spotify users play music through these speakers on a daily basis and so there could be a benefit to be had from a device that makes these speakers smarter.
This could take the form of a plug-in module or Bluetooth streaming device that includes microphones and is integrated with one of the mainstream digital assistants that has been optimised to make the Spotify music experience better.
The Spotify user experience through both Amazon Alexa and Google Assistant is basic at best and so something that has been optimised to allow better voice control of the Spotify music service could improve user loyalty and stickiness.
This is the kind of product I expect Spotify to create as it makes far more sense a business perspective.
The streaming music market remains dominated the two major players and while Apple has gained some momentum recently, it does not appear to have made a meaningful dent in Spotify.
I expect music streaming to remain the only engine of growth in the music industry going forward.