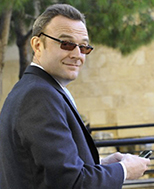 A new PC cycle depends on marketing.
Intel warned on Q1 revenues as the corporate refresh cycle has come to a more abrupt end than expected.
This combined with a poor macro outlook for Europe caused Intel to warn that revenues would be about $900m lower than expected.
Q1 15E revenues will now be $12.5bn-$13.1bn ($12.8bn) compared to previous guidance of $13.2bn-$14.2 ($13.7bn) which represents a miss of 6.5%.
2014A PC shipments stabilised as the end of Windows XP support by Microsoft forced many corporations to upgrade their PCs.
This offset the ongoing weakness in the consumer PC market.
This was expected to filter down into small and mid-size corporations but this has not happened.
Adding in the extra weakness triggered by instability in the Eurozone caused a meaningfully weaker revenue picture to emerge.
The server business continued to be strong but with corporates falling off, it was unable offset the long-term trend of consumers moving to smartphones and tablets.
It is clear that users who only use a PC for content consumption are better served by using a smartphone or a tablet.
RFM research indicates that a large proportion of content consumers have already deserted the PC but there are still enough of them still leaving the platform to keep PC numbers heading slightly south.
Many commentators will see this news as another nail in the coffin of the PC but I don't believe that this is the case.
Content consumers no longer have a reason to own a PC but content creators and companies need the extra power and input systems that the platform offers and I don't see this going away.
Furthermore, RFM estimates that content creators and corporations make up more than 75% of all PC users.
Consequently, once the content consumers have all left the platform, the market should grow slowly, albeit from a lower level.
Finally, I think that when Intel, Microsoft and the PC makers finally realise that the laptop is an obsolete form factor and start properly pushing the tablet PC as a laptop replacement, then a product cycle will kick in.
The tablet form factor offers far better flexibility, functionality and ergonomics to the user than the laptop and with the specification of the Surface Pro 3, it can be a true portable desktop (see here).
If these companies get behind a marketing message that educates the users with regard to what is really on offer, then I can see laptop form factor being replaced with the tablet.
This would be enough to drive the PC market back to growth and underpin a big rally in all the PC names including Intel and Microsoft.
However, this requires dusty old marketing departments to ditch the sales tactics they have been using for 30 years and embrace a new paradigm.
Of this there is no sign and until there is, profit warnings and slip ups of this nature are likely to re-occur.
Weakness in Microsoft represents an opportunity to pick-up exposure to the larger ecosystem theme.