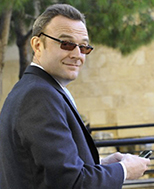 Flexible screens back for another press cycle.
With the success of the Samsung Galaxy Edge, it looks like Samsung is thinking of having another go at bringing flexible displays to the market in a meaningful way.
This is the third or fourth time in 6 years that Samsung has considered launching these products.
The technology for flexible screens is not the problem as fully bendable displays that can withstand a beating with a hammer have been around for more than 6 years.
The main issues are manufacturing yield which determines the price of the display and end user demand.

Yield. The economics of LCD and OLED panels depends on very high volumes with only a tiny percentage of devices being defective and having to be thrown away.
The encapsulation of flexible displays has long been a sticking point in the manufacture of these products causing far too many panels to be defective.
This has had the effect of making the panels prohibitively expensive which would make the phone or tablet so pricey that no one would buy it.
Demand. The problem with flexible displays is that beyond one obvious use case which has its own problems (see below), no one really knows what to do with them.
The Samsung Galaxy Edge is a case in point as the curved part of the screen has no real function other than for offering alerts.
Consequently, it is a nice looking, cool to have but otherwise pointless gimmick.
In the mobile phone market, pointless gimmicks have time and again been shown to sell devices in huge volumes at the high end and the Galaxy Edge has been no exception.
Unfortunately this will make bringing flexible screens to the main stream very difficult and Samsung has had great difficulty in finding buyers for these screens in the past.

I have long believed that the one use case that makes sense for a flexible screen is the ability to have a tablet that folds or rolls up into a phone form factor when not in use.
This is because these days a tablet is little more than a phone with a large screen as all the other components and the software is almost exactly the same.
This comes with its own caveats which is that the screen when unfolded into the tablet form factor, it needs to be rigid to make it useable.
That is likely to prove to be easier said than done and I suspect that this use case is unlikely to make an appearance for quite some time.
The net result is that with no real use case in sight for these devices, I suspect that Samsung may decide to hold off launching them in earnest until it can figure out what users can do with them.
Hence, I suspect this theme, like every time in the past, will have a quick press cycle and then disappear into obscurity until someone really works out what to do with these screens.
I still see upside in Samsung and Microsoft and prefer both to Google. Apple is still looking very attractive for the long-term.