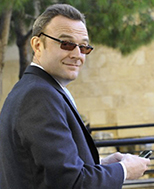 Now is the best time to clean house.
Samsung's chip business has driven yet another mighty set of results making it the perfect time to deal with all of governance issues that continue to plague the company.
Q3 17 revenues and EBIT are expected to be KRW62.0tn / KRW14.5tn slightly ahead of estimates at KRW61.8tn / KRW13.4tn.
While these results are not very far ahead of expectations, Samsung has generated 2.8x more EBIT than Intel is expected to have generated in the same period.
This will put Samsung's chip business comfortably in the global No. 1 slot where it looks it is going to stay for some time.
Handsets have also had a good quarter driven by its well-received flagship products but the real star of the show remains semiconductors.
Typically, an environment of limited supply and strong demand is ruined by over enthusiastic capacity additions but I see the semiconductor industry being a little bit more cautious these days.
I think this is due to the prohibitive cost of building a cutting edge fab and the fact that worries regarding Moore's Law grinding to halt are now firmly on the investment horizon.
The big question mark remains China which has said that it wants to create its own semiconductor industry (not including Taiwan) and aggressive roll-outs there could cause yet another demand / supply imbalance.
Either way this will take some time meaning that Samsung's chip business is likely to continue generating vast profits for at least 12-24 months.
Against this backdrop, the outlook for the shares remains pretty steady which makes it the perfect time to deal with the corporate governance issues that have been plaguing the company.
This appears to have begun in earnest with the resignation of co-Vice Chairman Oh-hyun Kwon who has also been serving as CEO.
With Jay Y Lee also likely to out of the picture for a few years, the way is open for new blood to take the helm of Samsung and clean-up these long-standing issues.
This is becoming increasingly important as the long-term discount in Samsung's valuation has evaporated over the last 18 months.
This means that the murky way that the company is owned, controlled and managed needs to be changed into something much more transparent.
Failure to do this effectively is likely to result in a big correction in the valuation as soon as the current business momentum hits a bump in the road.
I am hopeful that today's resignation is just the first step in this direction and that much more is to follow in the next 12 months.
While the company is firing on all cylinders, tolerance to the skeletons as they leave the closet will be at its highest.
Samsung's timing looks to be excellent.