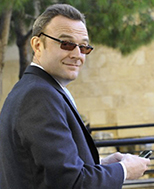 No Planes, no trains, only automobiles.
By far the strongest theme at CES 2018 is the digitisation of the automobile with drones, VR and so on fading somewhat into the background.
Byton.
Byton is an electric car start-up run by Europeans (ex-BMW) but financed and headquartered in China.
From the very first moment Byton had a tough hill climb as it was not so long ago that LeEco muddied sentiment towards Chinese EV start-ups with a glitzy event that was swiftly followed by a precipitous crash.
Byton's launch looked very similar (including the gaffs) but it was at the badly attended Q&A event that my scepticism was partially dispelled.
Byton is not really about making an electric car as building one of these is going to be considerably easier than the internal combustion variety.
Instead, Byton has focused its efforts on solving the fundamental problems that arise when one attempts to digitise the vehicle.
These include addressing the issues that arise with traditional product cycles where the infotainment unit is 4 years out of date the minute it hits the market.
RFM research (see here) has uncovered a series of fundamental problems with the way OEMs design and build cars and to its credit, Byton has come up with a credible solution to all of these issues.
However, what it does not have is scale as its current $800m or so in funding (including the ongoing $350m B round) will take it to just 100,000 vehicles manufactured each year.
This is tiny volumes meaning that the bigger OEMs will be able to offer a better specification of EV than Byton at a lower price.
This means that Byton must differentiate itself on the digital experience that it offers which will be more difficult than it sounds.
The true Digital Life of the automobile requires the combination of both the Digital Life Pie on the smartphone or tablet and the Digital Sensor Pie (see here).
As an OEM Byton, will have full access to its Digital Sensor Pie but it will need to take that in context with the data generated by the Digital Life services of its users on their other devices.
In China, this means dealing with the BATmen and in the West, this means Apple and Google.
Byton is likely to go with an SDL like approach that uses an API to project smartphone apps and data onto the dashboard which requires the makers of those apps to support Byton.
This will be a tough sell as the volumes are so low that convincing developers that Byton is worth the effort will not be easy.
That being said, its innovative approach to the dashboard seems to be driving a lot of interest which might help it to drive support for its proposition.
Byton has clearly put a lot of thought into its vision, but now it must execute and this is by far the hardest part.
Baidu
At Baidu World, it was clear what most of the audience was interested in as about one third of them left as soon as the presentation moved away from autonomous driving.
I find this to be somewhat short sighted as when one is considering the importance of AI in Baidu's future, I think its Duer OS platform is far more important.
This is because Apollo is just about cars while Duer OS is about everything else and also includes cars.
Baidu's AI is centred around Baidu Brain (which does what it says on the tin) and Baidu Cloud which is where Baidu Brain lives.
There are two main platforms based on Baidu Brain which are Apollo, its autonomous driving effort and Duer OS which is Baidu's equivalent of Amazon Alexa, Cortana, Google Assistant and so on.
Baidu has upgraded Apollo to version 2.0 (which I think is still pretty basic) as it can now drive on quiet urban roads bringing into line with what most of its Western competitors have been testing during 2017.
It also announced real vehicles with Chinese partners Cherry and King Long (busses) and Los Angeles based mobility provider Access.
Baidu also gave impressive growth figures for the traction of Duer OS and backed that up with a series of partner announcements and new devices.
The combination of Baidu Chinese search graph and its leadership in Chinese AI makes it by far the leading digital assistant contender in China which was clear for all to see when looking at the demos.
Baidu has also internalised the importance for cross device capability and its presence on phones, cars, TVs, speakers, lights, projectors, a mirror, a home robot and headphones is pretty comprehensive.
This gives the user the ability to interact with his devices from any of the others which is something that the Western leaders have yet to properly demonstrate.
However, Duer OSs' international ambitions remain quite limited as it has launched a product only for Japan with Japanese language support but of English, Spanish and so on, there is no sign.
Baidu has extended its leadership in AI in China but remains a fairly distant second behind Google which I still see as the global leader.
That being said, Baidu's recent travails have made it arguably the cheapest way to invest in AI in the global technology sector.