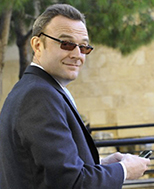 M&A in Chinese Internet is being defined by the Digital Life pie.
The Chinese market for fixed and mobile internet services is so large that it is likely to be self-sustaining.

This means Chinese services provided by Chinese ecosystems on Chinese handsets and tablets for users in China.

RFM thinks that the number of Chinese smartphone users is growing at a rate in excess of 40m per quarter (see

Mobile ecosystems – The 2

nd

Derivative

) with the number expected to top 570m by the end of 2014.

These users are not as affluent as those in the West but they still represent a huge monetisation opportunity.

This is why I believe that all of the big Chinese contenders are currently are all trying to gather the assets that will allow them to have as complete a Digital Life offering as possible.

The three big players are Alibaba (EBay lookalike), Tencent (Web portal and gaming) and Baidu (Google lookalike).

Each of these three has a dominant position in one area of the fixed internet but now all three are looking to extend their reach beyond their home turf but mostly into mobile.

As a result there has been a steady stream of M&A coming from China and I suspect that there will be much more.

The latest is Alibaba's $804m purchase of a 60% stake in TV and movie producer ChinaVision Media Group.

This follows on from its purchase of mapping company AutoNavi and Tencent's recent purchase of a 15% stake in e-commerce company JD.com.

All three of these companies started life as point solutions and when looks at how well they cover Digital Life in both the fixed and mobile domains they all have huge gaps.

Each of these three clearly intends to become an end to end Digital Life ecosystem provider and the time for the land grab is now.

The real battle will be fought in mobile as this is where the advertising budgets will quickly migrate to as the number of users rapidly grows.

By the end of 2018E, the market is likely to begin maturing and at this point RFM forecasts that there will be around 880m smartphone users in the Chinese market.

RFM research indicates that around 300m users are needed to really make an ecosystem successful and hence there is just enough space for all three to be successful in the home market.

All three of these players still have significant gaps in their Digital Life portfolios and so I suspect that the M&A will continue until the pies are full.

The trick is to identify the missing pieces and to get in before the big boys turn up with their check books.