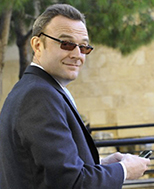 Google out front but hampered with its issues.
Google and Microsoft are lining up with Apple for the battle of the digital personal assistants but even in its current predicament, Google has a massive advantage.
Microsoft has just launched a beta version of its assistant, Cortana, for Android while Google is aiming to get its new service Now on Tap (see here) onto devices as soon as it can.
iOS 9 will see improvements to Siri to make it more intelligent and better able to correctly respond to questions and requests.
The ideal digital assistant is one that can anticipate what it is that one needs and present it without being asked.
It should also be able to understand the context of every question that the user asks and return the right information or carry out simple tasks.
These ideals are very far from becoming even close to a reality but I am certain that the solution lies in advanced machine learning.
When it comes to machine learning, Google is far ahead of both of its competitors and this shows through clearly when all three are asked a series of questions and gauged on which provided complete answers. (see here).
Not surprisingly Google Now fared meaningfully better (88% complete answers) than either Siri (53%) or Cortana (40%).
There is far more to a great digital assistant than just answering questions, but when it comes to the other aspects of these products, machine learning is still at its heart keeping Google way out front.
Unfortunately, Google is struggling with a number of issues that will limit its ability to keep Google Now far ahead of its competitors unless it moves fast.

First. Its latest innovation Now on Tap (see here) which has the potential to meaningfully improve Google's data collection, requires Android M to work.
Google's inability to update the software on its devices means that it could be 2017 or 2018 before Android M will be mainstream (see here).
Second. Many of the core team who developed Google Now have left the company after their creation was folded into the core search business against their wishes.
Their stock options going sideways for a year also did not help.

These two issues are likely to delay Google's roll out of improvements to Google Now to users, giving Cortana and Siri time to catch up.
Cortana on Android is another move by Microsoft to make its ecosystem operating system agnostic, aiming instead to encourage users to like and spend time with its services.
This is exactly the right strategy for Microsoft to become an ecosystem company but critically it must make its Digital Life services, fun, intelligent, easy to use, useful and integrated.
Many of them are very far from this ideal today, indicating that there is still and awful lot of work ahead.
Both Microsoft and Apple have a chance to catch Google while it gets its house in order but they will have to act now.
I still prefer Microsoft over both Google or Apple in the ecosystem as the market is expecting much less from it meaning that there is significant upside should it succeed.
Success in the ecosystem is already table stakes for an investment in both Google and Apple.