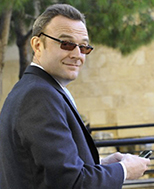 It makes no sense for Facebook to deliberately lock HTC out.
Facebook has updated the firmware for the Oculus Rift that has prevented the HTC Vive from running the Oculus Rift apps.
The new firmware now performs a platform integrity check to ensure that the Oculus Rift hardware is present before it will allow apps to run.
This is a pretty standard copyright mechanism used by many platforms to try and fight piracy.
This test is not trivial to circumvent (and it is illegal to circumvent copy protection in US) meaning that the Vive is now very unlikely to able to run Oculus Vive apps.
Prior to this an un-official tool called Revive was allowing Rift apps run on the Vive by tricking them into thinking that the Rift hardware was present.
However, in version 1.4, this test has become more robust and the check is now performed by the Oculus Rift DRM meaning that Revive no longer works.
For once, I think that this is not a deliberate ploy to lock HTC out of the Oculus Rift platform because strategically it makes no sense.
I don't think that HTC is in a very strong position with the Vive because RFM research indicates that HTC does not own the IP for this device and furthermore that it's licence with Steam is non-exclusive.
Hence, while HTC has a lead in terms of controllers and the user being able to move around, I don't think that this will last long nor will it be exclusive to HTC.
From Facebook's perspective, HTC is not the competition.
Steam, Microsoft, Google, Meta Vision, Atheer Labs and Magic Leap are, as these are the platform owners.
Consequently, the more devices that Facebook can get running Oculus, the better chance it will have at emerging as the dominant force in VR.
At the end of the day, I don't think that Facebook is very interested in hardware as a profit centre.
I think Facebook is much more interested in the data that Oculus generates and how Oculus could be used to migrate the fledging Facebook ecosystem into the all-important gaming segment.
Hence, it makes complete sense for Facebook to work with the creators of Revive and get it running again on HTC's VR.
This is why I think that HTC & revive are collateral damage as a result of this update and I would not be surprised to see revive up and running again sometime soon.