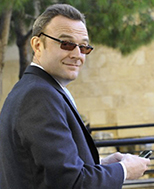 Facebook chasing broadcast rather than Netflix or YouTube.
Facebook's move into Media Consumption is well underway but it looks to me to be going after broadcast rather than premium or user-generated content.
Facebook has closed a deal for a reality TV show called Last State Standing and is close to doing a deal to shoot and air a second season of Loosely Exactly Nicole which originally aired on MTV.
It is also commissioning shorter shows from the likes of Vox Media and Buzzfeed.
This is in no way a move to compete with the high-end shows on Netflix or the user generated content on YouTube but instead looks like it is aiming at broadcast.
Despite the atmosphere of cord cutting, broadcast TV is still an advertising market that is worth $70bn a year and it is the younger end of this market that Facebook is targeting.
This looks to be somewhat experimental as Facebook is not really targeting expensive, high quality content as one of the shows it is looking at was cancelled after one season on MTV and has an IMDB rating of just 5.1.
These shows will air first on Facebook via a video tab called Spotlight that will be present at the side of the screen and will be funded by advertising.
The broadcast market represents a much softer target in my opinion as Facebook can add all sorts of interactive and social functionality on top to make the experience much more engaging than just watching TV.
The level of investment being made at the moment is small with a few hundred thousand dollars being spent per episode on its big shows as well as a few tens of thousands being spent for shorter segments from producers like Vox Media.
I see this as a sign of Facebook's media consumption strategy reaching the point where it can be considered to be properly present in this segment of Digital Life.
This will bring its coverage of Digital Life to 46% up from 36% where it is today.
For me, this represents a 28% increase in its addressable market which should allow revenue growth to re-accelerate after the slowdown I have been long expecting this year.
Given that Spotlight is not yet available in the app and that Facebook is just closing the deals to produce this content now, I do not expect these shows to hit Facebook until 2018.
Consequently, for 2017, I see Facebook's growth potential remaining hampered by the fact that it has already fully monetised the segments of Digital Life where it is already present.
The result is likely to be a much slower growth profile, which I think is something that the market has still not fully anticipated.
Hence, I can see disappointments coming in the Q2 17 and Q3 17 results as the market adjusts to this more sanguine short-term outlook.
It is at the point I would be looking to go back into Facebook as 2018 could see an uplift in financial performance driven by monetisation coming from Media Consumption.
This should be followed up by Facebook's expansion into Gaming and Search which would bring its coverage up to 78% and global market leadership, pipping Tencent which is currently on 77%.
This is what underpins my long term positive view on Facebook, although I am expecting weakness in the short-term as it will be sometime before the new business lines can pick up the mantle of growth.
In the meantime, I prefer Tencent, Microsoft or Baidu.