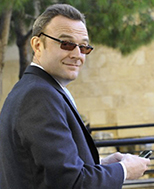 Whatever Facebook announces today, the chances are that most commentators will get the wrong end of the stick.
I do not believe for a second that Facebook wants to be like Apple.
Instead I think this is about directing and keeping internet traffic for the benefit of its ability to sell targeted advertising.
Facebook is due to make some announcements at 10.00PT, 13.00ET, 18.00GMT, 19.00CET where everyone is expecting the announcement of a hardware strategy.
The immediate and most obvious conclusion to draw from this is that Facebook wants to become Apple.
It is easy to slip into that trap but it simply does not make sense.
 Facebook has none of the virtues that make Apple products so sort after and therefore it will have sell whatever it announces at a discount to encourage users to take it up.
Hence it will be selling hardware at break-even or a loss putting it squarely at the opposite end of the spectrum from Apple.
Google and Amazon are in exactly the same boat and any notion that they make money from hardware is ludicrous.
Amazon does it in order to have platform upon which to sell content and Google does it to keep internet traffic flowing through its servers.
The more accurate assumption is that Facebook wants to be like Google and this is a notion that I can get behind.
Facebook has a huge position in social networking with 1bn+ active users of its site but no position in any other service that those users get involved with online.
This means that when its users do other things, such as search, browse or shop, that traffic is not ending up on its servers and therefore it knows nothing about its user is doing.
The more Facebook knows, the better it can target advertising to that user and the higher price it can charge to advertisers.
This is exactly what Google does. Everyone loves Google applications not just because they are free but because they are great.
The more people use them, the more Google learns and the greater value in terms of advertising that user becomes.
Whatever Facebook announces, I am certain that its real aim will be to encourage the user to use Facebook services more so that it can learn more about that user and sell higher value advertising using that knowledge.
This will make Facebook more a competitor to Google and Amazon than it will to Apple.
Facebook needs to encourage its 1bn users to do things other than Facebook using its services in order to succeed.
Seeing how much Google has invested in its services in terms of time and money, this will be a tall order.