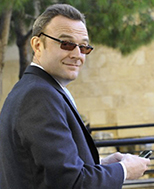 Eats24 is an essential acquisition.
GrubHub is making exactly the right moves to give it the best chance to beat its larger and much better financed rivals in the brutal food delivery business.
Alongside results that broadly met expectations, GrubHub announced the acquisition of Eat24 for $288m well over double what Yelp paid for it in February 2015.
This may seem to a huge premium but when one looks at what Eat24 can bring to GrubHub, it is not difficult to make the case that this could be the most important move GrubHub has made in its history.
GrubHub is an online marketplace where diners come to order amd have delivered food from participating restaurants.
As an online marketplace (network business) it is subject to exactly the same dynamics as ride hailing, classifieds and so on.
20 months ago I proposed a rule of thumb that states: A company that relies on the network must have at least 60% market share or be at least double the size of its nearest rivals to begin really making profit (see here).
In effect, by hitting one of these two criteria the marketplace becomes to the go-to place to transact meaning that buyers become somewhat less price sensitive and sellers will pay more to sell their goods there.
It is this that allows the marketplace to make proper money but before this level is reached all players will almost certainly be under excruciating pressure.
GrubHub is no different in that since the advent of UberEats and Amazon's entrance into this space, there has been relentless pressure on margins.
In the last 12 months EBIT margins have fallen to 13.9% in Q2 17A from 18.7% in Q2 2016 despite a 32% increase in revenues.
GrubHub is the market leader with 34% but Uber is not that far behind with 20%, Eats24 with 16% and Amazon on 11% (Cowen &Co).
Regulatory scrutiny has been high on GrubHub's previous acquisitions but the fact that this deal is likely to be passed with barely a ripple is an indication of how much more competitive the market is now considered to be.
There is some overlap between GrubHub and Eats 24 but importantly once combined the platform will have 75,000 unique restaurants on its books and 48% market share of transactions.
Assuming that the acquisition and integration proceeds flawlessly, then GrubHub will be more than double the size of its nearest rival (Uber) and able to at least stabilise its margins.
Furthermore, as long as it can hold onto this advantage, it should be able to withstand the pressure from its rivals despite the fact that they have very big brothers backing them up.
Consequently, I think that GrubHub had to make this acquisition otherwise it faced being ground down by its better financed rivals until it was forced to sell itself to one of them.
GrubHub has made the right strategic move to ensure its longevity but now it comes down to execution to determine its future.