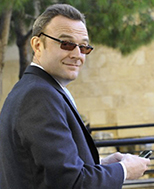 Intel's 60%+ gross margins are a juicy target.
To date, Intel has been able to brush aside any threat to its dominance in processors for the data centre, but with Microsoft deciding to port Windows Server and Azure to ARM, the threat is back.
The data centre has long been the saviour of Intel's financial performance as it has been supporting the company as the legacy PC business has been going through its rough patch.
ARM has taken pot shots at the data centre before with semiconductor makers announcing chips, but this has never gotten off the ground.
I have long been convinced that the main reason for this is software as many servers run huge amounts of legacy software that will need to be ported in order for an ARM based server to work.
Until now, no one has been willing to do this.
This is why the demonstration of Windows Server running on the ARM based Qualcomm Centriq 2400 is so significant.
If this can shown to run with similar performance characteristics to Intel, then it would make a lot of sense for Microsoft to begin migrating its servers over.
There are some signs of this already and Hewlett Packard mentioned weakness in a large customer on its most recent earnings call which is widely believed to have been Microsoft.
However, this solution is still internal only to Microsoft and I doubt that it will be willing to take any risks until it is sure that it can work just as well as Intel.
The key to this is performance and here Intel has historically beaten ARM-based processors hands down time and again.
This is not because ARM processors are weaker than Intel per se, but because the implementation of x86-based software on ARM involves a translation step to convert x86 instructions to ARM instructions.
This translation step adds complexity to an implementation meaning that substantial performance overheads often result leading to a poor user experience.
In the data centre, performance is critical and so it is a very big stretch to say that Intel is beaten.
In fact, I think that there is a very long road ahead for ARM to make a real impact in servers but with the company now privately owned, there is plenty of money for investment.
I think the real risk for Intel here is not so much market share but margins.
Group gross margins are still way above the industry average at over 60% and if real competition comes into the server market, these are going to come under real pressure.
I think that Qualcomm is highly motivated to make this work as its core markets are now saturated leaving it needing other avenues with which to pursue further growth.
This is what lies behind its acquisition of NXP as well as its aggressive push into other areas such as automotive.
As always, the outcome of this battle for the data centre will be determined by execution and while I see no immediate threat to Intel, Qualcomm and Microsoft represent its greatest threat to date.