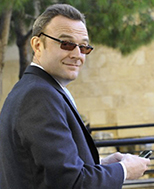 Sailfish finds a life line with the Russian government. 
The hardy sailors at Jolla have had a pretty stormy couple of years but their ship may have found safe-ish anchorage in Moscow.
At the end of 2015, Jolla joined the stagger of zombies (see here) when it ran out of money and had to pause its operations.
However, in May this year it secured $12m in funding and has recently won a battle with Samsung's Tizen to be selected by Russia's Ministry of Communications as its mobile platform of choice for Russia.
Sailfish has benefitted from the increasingly frosty relationship between Russia and the US where the fact that Sailfish has nothing whatsoever to do with any of the US-based platforms was a major plus.
Local search player, Yandex does not have the advantage that the BATmen do in China where there is a firewall to keep foreign services from being present in the local market.
Hence, Yandex is up against Google and has a big incentive to see devices in the market where Google services are absent.
This is because Google's commercial agreements make it very difficult for competing services to be the default option on the device when it reaches the user.
Sailfish was also able to beat out Yun OS which is Alibaba's proprietary fork of Android because, although the OS is secure, the SDK for developers still comes directly from Google.
Sailfish also has the advantage of being able to run Android apps using an emulator called Alien from Myriad Group
However, because it is an emulator, there are issues with the performance of those apps and games in particular.
While Jolla has done well to secure the backing of the Russian government, it is no guarantee that it will see any success in the market.
The key will be how well Sailfish can work with services from Yandex which is the local leader in search and has a series of Digital Life services that are applicable to the local market.
To make this work effectively, Yandex services will need to be ported to Sailfish which is where a start-up. funded by the head of ESN Energy, called Open Mobile comes into play.
This start-up has adopted Sailfish and aims to integrate Russian specific services onto Sailfish to increase its appeal locally.
The key to the success or failure of this venture will be how well a Sailfish device can cover the Russian Digital Life pie and how well it fares against RFM's 7 Laws of Robotics.
To date Sailfish has scored poorly on these measures as there has been no real ecosystem available, just an operating system.
Furthermore, I think that the backing of Yandex and the local operators will be of crucial importance as the platform will need a big marketing push to raise its awareness with Russian users.
Jolla is still running on financial fumes but it now has a chance to see some income should it gain some traction in the local market.
In that regard its fate lies in the hands of the Russian operators and Yandex.