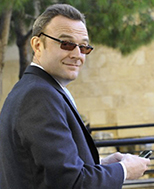 Good results restore optimism in strategy 
Microsoft reported good FQ4 16A results supported by signs of stabilisation in PCs and excellent performance in the cloud.
FQ4 16A revenues / adj-EPS were $22.6bn / $0.69 compared to consensus estimates of $22.1bn / $0.58 and RFM on $21.9bn / $0.59.
Microsoft's strong results were driven by a very good performance by Azure which continued to grow by over 100% and some signs of stabilisation in the PC market.
This was slightly offset by gross margin pressure triggered by the increasing mix of revenues coming from cloud and Office 365.
This is completely normal as cloud revenues have lower gross margins than perpetual software sales but they are longer lasting meaning that they deliver more profit in the long term.
I would continue to expect to see gross margin decline steadily over the next year or two as this transition continues.
Stabilisation in PCs has been echoed by a number of other companies in the supply chain which have also seen some signs of stabilisation in the PC market this quarter.
I have long been believer that the PC is very far from dead but it is in fact suffering from a portion of its users continuing to defect to other platforms.
These users are the ones that I refer to as content consumers who have historically used a PC to do nothing more than browse the internet, email, shopping and so on.
These users have very little reason to own a PC as a smartphone or tablet running iOS or Android can do the job just as well and much more conveniently.
I think that other users such as content creators and companies will long have need of the PC and while I don't think it is going to grow, I don't see a precipitous decline either.
This is why I think that Microsoft's legacy OS revenues are likely to stabilise as the OS tends to be sold as part of the PCs overall and therefore is likely flatten in line with the market.
The same cannot be said for Office but Microsoft is doing an excellent job at converting traditional Office sales into Office 365 subscriptions and there is every sign that this will continue.
Consequently, the outlook for the next fiscal year is good with steady revenue growth and tight control of the cost base.
However, the issue around the consumer assets remains unanswered.
Microsoft is increasingly becoming focused on prosumers and the enterprise and where assets like Bing, Xbox fit and Skype fit into that remains very unclear.
The good news is that Microsoft's valuation does not demand any real action around integrating these assets to create a fully-fledged enterprise and consumer ecosystem.
Hence, I can still see these assets being sold off at some point which still gives me a valuation for the shares of around $62.
This is still nicely above current levels ($55) leading me to remain positive on the outlook.
I would also add Baidu and Samsung into this group of stocks to look at for the balance of 2016.