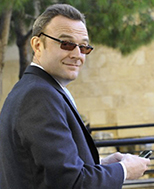 Not a cloud in the sky.
A strong finish to the fiscal year cements Microsoft's positions as the main alternative to Amazon Web Services and as the preeminent provider of a Digital Work ecosystem.
FQ4 17 revenues / Adj-EPS were $24.7bn / $0.75 nicely ahead of consensus at $24.3bn / $0.71.
Outperformance was primarily driven by Azure which grew by 97% YoY and Office 365 which showed continued to show healthy progress in both the enterprise and with prosumers.
Gross margins improved slightly as favourable product mix was able to offset the impact of the increasing share of revenues coming from the cloud which has much lower gross margin than licence sales.
This is entirely normal and RFM research has shown that in Microsoft's case in the long-run, it is better to have recurring revenues at lower gross margins than one off sales at much higher levels.
This is because the one-off sales do not occur frequently enough to generate more profit than subscription revenues at much lower margins.
Consequently, gross margins are going to remain under pressure in future albeit at a lower rate as cloud gross margins are rapidly expanding as the businesses continue to scale.
Guidance for FQ1 18E was a little light with revenues / EBIT of $24.0bn / $7.1bn forecast compared to consensus at $24.2bn / $7.4bn.
Guidance for FY18E remains unchanged with the priorities being placed upon increasing cloud gross margins and cautious growth in OPEX.
While the Digital Work ecosystem is going from strength to strength, the consumer ecosystem continues to wither away.
The one exception is gaming where the Xbox live community is still growing nicely and Microsoft remains the only real challenger to Sony in console gaming.
Despite this, I still think that Xbox Live is a massively under-utilised asset is it has completely failed to get any real traction in mobile gaming.
This is why I still think that there may be a party out there that is willing to pay more for Xbox than it is worth to Microsoft.
In that instance, Microsoft should sell Xbox in the best interest of its shareholders.
Microsoft is not the most exciting company in my universe but it has been one of the steadiest over the last 2 years and there is every sign that this will continue into FQY 18E.
Microsoft remains along with Baidu and Tencent, my two top picks.