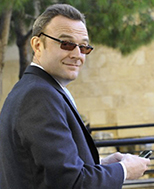 Ola has one chance to turn the tables on Uber.
Ola has secured $2bn in funding from Softbank and Tencent which it must immediately put to good work if it is to wrest the advantage from Uber in India.
I think that this is an excellent time for Ola to receive a large cash injection as it is almost neck and neck with Uber in India and has the advantage of focus while Uber fights endless fires elsewhere.
This advantage will not last for ever and if Ola can push its share back to 60% it will stand a chance of doing to Uber what Didi in China and Yandex in Russia have done before it.
Car hailing is one of the best examples of a networked economy and, just like classifieds, it is extremely difficult to make money until one of two criteria are met:

First: one must have at least 60% market share or
Second: one must have double the market share of the next largest player.

Data in terms of market share has been somewhat unreliable but it looks as if Ola has been able to cede only a small amount of market share in the last 12 months.
Research by KalaGato Pte shows that Ola's share in July was around 44% with Uber on 50% with everyone else fighting for the scraps.
In October, Ola's market share was around 50% (see here) and it looked to me like Ola would only survive with state intervention.
During March 2017 Ola's rides per customer stood at 2.95 while Uber were 4.38 with 40.9% of Uber customers paying less than Rs100 per ride while only 31.4% of Ola's customers paying less than Rs100.
While not definitive, this data indicates that Uber has been gaining share through aggressive pricing and the good user experience offered by the app.
However, I think that Uber's troubles have had a massive ripple effect right the way through the organisation resulting in the eye coming off the ball.
It is this that has given Lyft a new lease of life in USA and now offers the same chance to Ola.
This turmoil has only intensified with Transport for London denying Uber a licence to operate necessitating even more diversion of attention away from India.
This $2bn investment and Uber's focus elsewhere gives Ola a chance to halt its recent losses and turn them around.
What it has to do appears to be quite clear:

First: cut prices and
Second: improve the usability of its app and service.

If Ola can get back to 60% share then it will have reached the hallowed status at which it will be able to generate cash and Uber will not.
It is at that point it will be in a position (as long as it holds onto 60%+) to eject Uber from India (probably through acquisition) but not before.
Now it all comes down to Ola management's ability to execute and upon this, everything depends.