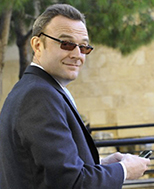 For hardcore fans only.
Razer has stuck to what it knows in its in launching first smartphone, but its focus on gamers means that the device looks very dated against competition in its price tier (Galaxy s8, Mate 10 Pro, iPhone 8 etc).
The Razer phone sports a very average looking screen with large top and bottom bezels but these make sense in the gaming context.
The most annoying thing about playing games on smartphones that are all screen, is that there is nowhere to rest one's thumbs.
The large bezels also provide the real estate to include high specification speakers and Razer is also pushing audio as a differentiator for this product.
Razer has provided for this at the expense of aesthetics but combined with a 120hx refresh rate on the display and a snapdragon 835 and a whopping 8GB of RAM, I think it is safe to say that this will provide arguably the best overall gaming experience.
True to its roots it also allows gamers to tweak the performance of the device to optimise battery life against performance with the Razer app that comes preinstalled.
The Razer phone is effectively a tweaked Nextbit Robin which was the lead product of the small phone maker that Razer acquired in January.
This makes sense as it would have been almost impossible to come up with a new design from scratch in such a short time period.
Unfortunately, in order to benefit from the 120hz refresh rate, games companies need to include support for it in their apps meaning that the majority of Android games will not be able to make use of this key feature.
However, it has announced partnerships with Tencent, Square Enix, Namco and several others meaning that some high-end games will be able to work optimally with the device.
Razer has a similar problem to the one that caused Microsoft no end of grief which is that the average consumer will not understand its product and will only see an old looking device at a high price.
Consequently, I think that this is an enthusiast device that will only be purchased by users that are already very familiar with Razer and most likely own its products.
That being said, I have estimated that the software that it offers on its PCs has between 5m and 10m active users (see here), which probably makes up a big part of its core fan base.
If 5-10% of these users buy the device, then this would represent shipments of 500,000 or revenues of around $280m (at my estimated wholesale price).
This would help support Razer's lofty valuation of around 10x sales at IPO, but margins are likely to be very low, leaving me unchanged in my opinion that there will be a better time to consider this one.