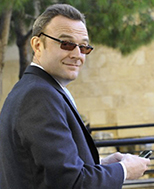 Dreadful results reveal a company in disarray.
Snap reported weak results that bear all the hallmarks of a small, weak player being ground into the dust by a larger, much more powerful rival (see here).
Furthermore, Snap now finds itself being forced to redesign its user experience in a desperate attempt to drive user growth which, by its own admission, puts at risk the usage and revenues it already has.
Signs of disarray are everywhere from a sudden desire to redesign its user experience (see below) to a failure to update its mission statement following the failure of Snap Spectacles (see here).
Snap still describes itself as a camera company (see here) despite taking a $39m write-off of camera hardware after failing to sell the units.
Q3 17 daily active users (DaU) and revenues were 178m / $207.9m falling well short of consensus at 180.5m / $235.5m.
Revenues have been depressed by the shift from direct sales to programmatic advertising which has had a significantly negative impact on advertisement pricing.
This transition is now largely over as 80% of revenue now comes from this form of advertising meaning that growth should be better going forward.
However, the two most important measures of a company's ability to monetise its users: Digital Life coverage and active users are both stagnant.
Snap's Digital Life coverage remains at 14% and without major traction in another area like Media Consumption or Gaming, it is unlikely to change for the foreseeable future.
I think that Snap's active users are not growing because Instagram has successfully copied all of Snap's user experience innovations and made them easier to access.
The result is that users are no longer leaving Facebook to go to Snapchat but instead simply switch over to Instagram Stories for this type of service.
Hence, I think that the end result is that neither its Digital Life coverage nor its user count has any real scope to expand from here.
Putting this into the context of RFM's monetisation analysis (see here), means that once Snap Inc. has monetised its full potential, growth will grind to a halt as it has at Twitter.
Furthermore, tinkering with the user experience runs the risk of putting off its existing users which could cause active users to decline which would put a major crimp on the company's ability to monetise.
Snap has a core user base and revenue opportunity which, in my opinion, still values the company at around $12.40 a share.
This is not far from where it is now following the 17% after-hours correction on 7th November 2017.
However, I still think that the stock needs to dip below $10 before I would consider looking at it as it is at this point that potential acquisition interest may materialise.