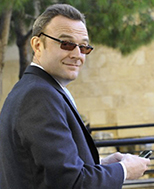 One black eye does not make a knock-out.
Sony is paying the price for its ambition with an awful set of results.
Sony reported Q2 13 results that were far worse than expectations and also cut its full year profit (March 14) forecast by 40%.
Q2 13 revenues and net income were JPY 1,775bn / LOSS JPY19.6bn compared to forecasts of JPY 1,779bn / JPY 12.2bn.
This was particularly worrying as the Yen was a major tailwind in the last quarter.
Without it revenues would have fallen by 9%.
Operating margins fell from 1% in Q2 12 to just 0.3% in Q3 13.
The biggest culprit was Sony Pictures Entertainment which has struggled with a number of recent flops as well as Sony's insistence on holding onto its TV, camera and PC businesses.
As a result, forecasts were slashed and full year net profit (March 14) is now expected to be JPY30bn compared to previous forecasts of JPY50bn.
Consensus was expecting JPY45.6bn in net profit.
This will add a lot of weight behind activist shareholder calls for the company to be broken-up and if enough fervour can be whipped up, it just might happen.
Kazuo Hirai's vision is to turn Sony from a lumbering conglomerate into an integrated ecosystem play with both hardware and software.
This is the right vision but it is incredibly difficult to execute and it will take a long time in the best instance.
This quarter, he has been undermined by bad luck at the movies and weak demand for PCs, TVs and cameras.
The real question is how long does he have to realise that vision or will impatient shareholders sell the company out from underneath him?
With its assets from electronics to media, Sony is the only Japanese company that has a chance being relevant in the digital ecosystem world.
Sony must break down the silos it has cherished for 40 years and make all of its assets pull together.
To give Hirai-san credit, he gets it.
His executives have both horizontal and vertical responsibility which forces the disparate parts of the crumbling empire to work together.
If any Japanese company is going to emerge from the wreckage that is Japanese electronics, it will be Sony.
Everyone is praising Panasonic this morning for its improvements, but this is a company that is cost cutting its way into obscurity.
Panasonic is finished in the technology sector and while it may be profitable it will never see greatness again.
This will give some short-term share price performance but in the longer run the company will drift sideways.
Sony on the other hand has the potential to perform well for many years to come because there is so much that could be done with its assets.
I want to love Sony because it is now trying to fix all the things that I have hated about it for years.
Hirai's strategy is absolutely bang-on, but just like Microsoft, I don't yet know whether he can execute it.