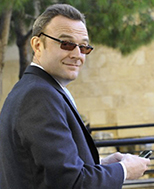 Tencent begins to build on Supercell.
Following the most difficult set of results after its IPO, Snap has conveniently announced that Tencent has taken a 12% stake in the company.
This has awoken take-over speculation that I thought would not really emerge before the shares dropped below $10 and should provide a badly needed boost to sentiment.
In its 10Q Snap stated that it had been notified by Tencent that it has purchased 145.8m shares representing a holding of 12% in Snap Inc.
If this had been purchased purely through the exchange it would have consumed 25% of the free float which I think would have been noticed triggering a rally and speculation.
Consequently, I suspect that the majority of this stake was accumulated by approaching existing holders directly whom I suspect were only too happy to sell.
I do not think that this transaction has anything to do with Tencent's China business but instead is more about Tencent looking at ways of spreading its wings overseas.
RFM research (see here) has concluded that Digital Life services in developed markets do not work well in China (mostly because they are blocked) while Chinese Digital Life services do not work well in developed markets as they do not fit culturally and also are predominantly in Chinese.
Consequently, the BATmen have had to seek other ways to develop overseas other than just spreading their Chinese services into developed markets.
Alibaba is approaching this using the Trojan horse of Alipay (see here), while Tencent is showing signs of assembling a range of assets that would give it good coverage of Digital Life in developed markets (see here).
This process began with the acquisition of Supercell in June 2016 (see here), continued with an attempt on Spotify that failed (see here) and now it seems to be latching onto Snapchat.
Tencent is the global market leader when it comes to Digital Life coverage with 77% of the Chinese pie covered and 30% of the developed market pie covered with its position in Supercell.
Adding Snapchat would take this coverage to 44% ahead of both Google and Apple (who have 40% each).
However, it is one thing to have good Digital Life coverage and quite another to create a vibrant ecosystem that one can effectively monetise.
The Digital Life measure is only a measure of opportunity which is why RFM uses its 8 Laws of Robotics to assess the quality of the proposition being made to users.
Against these tests both inside China and overseas, Tencent does not score well (see here) which explains why the vast majority of its revenue comes from selling content and games rather than from monetising its community.
It increasingly looks as if Tencent is embarking on a circumnavigation of the Digital Life pie in order to build an ecosystem to challenge the established Google, Apple, Amazon, Facebook dominance of consumer digital services.
Consequently, I expect Tencent to actively seek investments or acquisitions in Media Consumption, Search, Social Networking and so on in order to build its coverage.
This is likely to prove to be expensive and in my opinion the real challenge for Tencent lies ahead.
This will be to assemble and integrate these assets into a vibrant and consistent community which is something is has yet to do with the majority of its assets in China.
It is at this time that its score against RFM's 8 Laws of Robotics will begin to improve but so far there is not that much sign of it.
I continue to like Tencent as it is the strongest of all the Chinese ecosystems and the share price still does not reflect all of the potential upside.
Hence, there is still not much very downside in Tencent if it fails to integrate its assets and improve its score on the 8 Laws.
However, should it do so, there is plenty of further upside from here.
Tencent, along with Baidu and Microsoft remain my top picks.