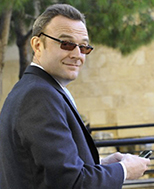 I think investing in Tesla is about China, not overseas.
Tesla has announced that Tencent is investing $1.8bn in a 5% stake in the company that should bring in both badly needed capital as well as serving as a way to open doors in China.
Some commentators are of the opinion that this investment is part of Tencent's plan to expand overseas, but I see this as a move to catch up with what is going on at home.
This fits nicely with Tesla's ambitions in China which has had a pretty torrid time there since it launched in 2014.
RFM research clearly shows (see here) that Tencent is the dominant ecosystem in China with over 850m MaU and 77% coverage of the Digital Life Pie.
However, when it comes to automotive, I see it as being behind both of its major domestic rivals, Alibaba and Baidu.
Baidu has leadership in maps, leadership in autonomous driving and is already putting its services into cars with Baidu CarLife in conjunction with Harman.
Alibaba is also actively pursuing Chinese car makers to use its Yun OS software in their cars and already has a deal with SAIC.
On the other hand, Tencent has very little other than a small stake in Didi which is unlikely to help it much as both of the other BATmen are also shareholders.
This is why doing a deal with Tesla makes some strategic sense on both sides of the table.
Tesla gets a strong partner to help it fix the problems that it has had in terms of penetrating the Chinese market, while Tencent gets a potential route into both the automobile and autonomous driving with a major global player.
I view the automobile as another device alongside the smartphone, tablet, console, TV and so on for delivering Digital Life services to users.
Chinese cities have some of the longest commuting distances in the world (see here) meaning that the automobile is a place where those that drive spend a meaningful proportion of their day.
Much of the commuting is done on public transport which Tencent already has covered with its very strong presence on the smartphone.
Tencent will be a little more than a passive investor, being referred to as an advisor, which I take to mean helping out in China.
This is the latest of a series of moves that has seen Tencent address some of its weaknesses (see here and here and here) but the biggest one still remains.
I have long believed that integration is key to monetisation and see substantial upside in Tencent's financials if it really embraces this notion.
However, I still see no evidence that Tencent is making any moves to integrate its Digital Life services into a single system where it can really understand the profiles of its users across all of its services.
As a result, its growth is likely to continue to come from selling games and media rather than from its ecosystem which I think limits its real long term upside.
Fortunately, the short-term picture remains pretty healthy and so there is still upside to be had without Tencent really developing its ecosystem, but the time is fast approaching when it will need to make that move.