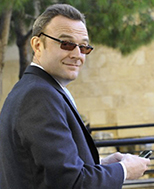 The spark at DJI is in its software prowess.
DJI has launched a new drone which I think clearly demonstrates this company's unique ability to take on its US rivals and come up with a better product.
DJI has launched the Spark which is a palm sized drone that looks to be so easy to fly that the controller is an optional accessory.
The Spark is equipped with a 1080p 12MP camera and is controllable with a smartphone app but most importantly it sports a level of autonomy that makes it easy for anyone to fly.
Its chief rival in this space is the Dobby drone from Xerotech, which is pretty easy to fly using a smartphone but does not offer the level of sophistication that the Spark does.
Specifically, I am referring to the ability to completely control the drone using hand gestures and a series of autonomous modes that are aimed at still and video selfies.
This level of autonomy has been under development for quite sometime and DJI continues to demonstrate that it is ahead of all its competitors, including those based in US.
This is extremely rare for a Shenzhen-based hardware company which tend to turn out very cheap copy-cat devices and have no understanding of software at all.
The difference between Chinese designed devices and the much more expensive versions sold by US companies tends to be found in software functionality and reliability.
This is why the US versions still sell well in developed markets as consumers can recognise and are willing to pay up for quality products.
DJI completely bucks this trend as it is turning out better products than all its competitors making it a worthy leader of the still small, but growing drone market.
What is unusual about DJI is that its differentiation is now rapidly becoming based on its software which offers the best level of autonomy currently available.
This has really come to light in its two most recent products, the Mavic Pro and now the Spark.
The Spark is DJI's first attempt at the consumer market as the device is priced at $499 compared to all of its other products that are above $1,000.
For its more expensive products it is not so important for them to have a high level of autonomy as they tend to be purchased by users who are either professionals or experienced flyers.
This is aimed at those that have never picked up a drone before and as long as it lives up to its billing it should be very easy and great fun to fly.
Most of all, the autonomy should allow selfies to be taken where the "pilot" is participating in the scene rather than flying the drone.
DJI is continuing to stay ahead of its competitors and is the first Chinese company to lead a segment of consumer electronics rather than be a fast copier.
If it was listed, I would be looking at DJI with great interest.