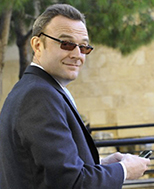 Fingerprint sensors define the market this year.
The problem with covering the whole of the front of a smartphone with glass is that it creates a problem for fingerprint ID on the home button.
Samsung got around this by inconveniently locating fingerprint ID on the back of the device ensuring that it gets used much less than it otherwise would.
Another option is to put the fingerprint ID sensor on the power button which can be used to turn the screen on.
I think that this is currently the lead contender for the iPhone 8 as I have seen no indication that Apple has cracked the problem of putting the sensor under thick protective glass and still have it working reliably.
Qualcomm has just announced a solution that uses ultrasound that is capable of reading a fingerprint beneath an OLED display with a thickness up to 1.2mm as well as up to 0.8mm of glass.
Assuming the sensor is reliable, this specification should be more than enough to offer fingerprint recognition on any smartphone regardless of whether it uses the Snapdragon chipset.
Qualcomm is demonstrating the technology on a retrofitted Vivo smartphone and I suspect that Vivo will be the first to deploy it in a commercial device.
Apple and Samsung are working on their own solutions but I do not believe that they have solved the problems created by placing the sensor under the glass.
Fingerprint sensors have become part of everyday life on smartphones and with Samsung, Xiaomi and Essential Products setting the standard when it comes to screens, Apple has little choice but to follow.
Hence, with the upper and lower bezels of the device being no longer available, by far the best solution remains to place it under the screen on the virtual home button.
I think that anything else, including the power button, diminishes its usability and therefor its overall appeal.
Fortunately for Apple, the draw of its ecosystem is still very strong meaning that even if the sensor is on the power button or even the back, it is unlikely to meaningfully impact demand for the device.
This is because despite improvements, the user experience on Android remains meaningfully adrift of that on iOS which is so far keeping users very loyal to iOS.
Hence, I don't see Apple rolling out this technology until it is rock solid in terms of reliability.
I think that the availability of under screen fingerprint sensors will have a significant impact on the handset market in Q4 17 as they enable an optimal user experience.
Anyone who can bring this to market by Q4 17 is likely to enjoy a temporary gain in market share, most likely over Samsung, but even the Qualcomm solution will not really be available until next year.
Consequently, I see Q4 17 continuing to be dominated by Samsung and Apple once again.
Samsung's shares continue to be very strong, but I think that the valuation opportunity has now passed.
Consequently, I still prefer Tencent, Baidu and Microsoft.