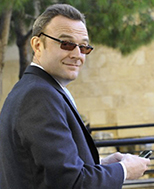 Mobile pricing is likely to stay low for a while.
Google failed to beat expectations as pricing fell by more than expected due to the shift of spend from desktop to mobile.
Q1 14 Revenues and adjusted EPS were $12.2bn / $6.00 compared to consensus at $12.3bn / $6.39.
Profitability fell short as gross margin fell as a result of lower pricing while the cost of traffic acquisition continued to grow.
The company pointed to some one off costs in R&D as result of recent acquisitions but this did not alleviate the concerns around pricing.
The main problem is that, at the moment, an advertisement or search attracts a significantly lower price on a mobile device than it does on the desktop.
There are two main reasons for this:

First: The small screen is less effective for marketing as there is less spare real-estate and acting on a marketing message is more complex and potentially expensive for the user.  
Second: Mobile payments remain in the stone age which means that impulse purchases in response to a piece of marketing happen infrequently.

Hence, the return on investment for an advertiser when looking at sales from a mobile device from advertisements on mobile are lower than they are for the desktop meaning that they attract a lower pricing.
Google is trying to change this in two ways.

First: By educating the marketers to the value of cross-screen marketing. i.e. an advertisement seen and acted on in mobile resulting in a transaction by the same user on another device.
Second: Improve mobile payments such that it becomes quick, simple and secure to transact direct from a mobile device.

If Google can help fix these issues on the devices that it controls then there should be a convergence of advertising pricing between fixed and mobile.
Given what will now be baked into expectations this would be positive for Google but it is going to take some time.
The technology industry has been struggling for more than 10 years to get mobile payments to work and it is still struggling.
Hence I do not expect this issue to be fixed anytime soon.
However, if advertisers can be made to understand the value of cross platform, then some progress on pricing could be made in the short term.
Hence long-term I think that mobile pricing will improve but this looks like an issue that will crimp growth this year.
That being said, Google is in the best position of any ecosystem player to see growth from the mobile ecosystem.
Hence it remains one my favoured plays alongside the more controversial contenders Yahoo! and Microsoft.