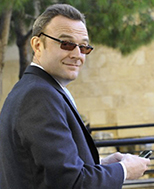 Spotify has to make sure everyone knows that it has a better proposition.
The war of words is as hot as ever in the emerging world of music streaming, but whatever the realities are, I suspect that it remains a two horse race.
The latest shots to be fired come from Apple which admits that it still has some work to do but that 79% of the 11m trial users it has are still using the service.
An independent survey by Music Watch found that only 52% of the users it surveyed were still using the service.
However, the Music Watch data is highly contradictory with 66% saying they would pay for the service at the end of the trail period and 61% saying that they had already turned off the auto-renewal option.
In light if the contradictory data, I think that all of the data from Music Watch is to be treated with caution and at the end of the day only Apple really knows what the real figures are.
The feedback on Apple's service and Apple's own omission clearly shows that it needs a lot of work before it can compete with Spotify in terms of functionality and quality.
Spotify's biggest problem is that only its users really know how good the service is.
Spotify has much more data than Apple and importantly it has the machine learning and the experience to know what to do with it.
This combined with some innovative functions and services make it a far better proposition for $9.99 a month.
However, the problem is that Apple Music is now installed on at least 100m devices and all users have to do to try it is push a button.
This means that an iOS user who is considering a music streaming service for the first time is much more likely to end up using Apple Music than Spotify.
This is why I believe that it is incredibly important for Spotify to step-up its marketing and let users know the how and why its service is better than Apple's.
Apple has a mighty brand meaning that any user that does not know anything about Spotify is more likely to choose Apple.
On Android it will be a more level playing field but again Apple's brand will count for something.
I very much doubt that Spotify will lose any of its free or paying user base to Apple but the problem will come in new subscriber acquisition.
This is why the net add figures over the next two quarters are so important and Spotify needs to maintain its current momentum.
Spotify clearly has the leading music streaming offering in the market at the moment and Apple, by its own admission, is playing catch-up.
Hence, Spotify must make sure that everyone is aware of this fact and that it offers better value and functionality for $9.99 a month.
This advantage might not last forever and the time establish itself as the runaway leader is now.