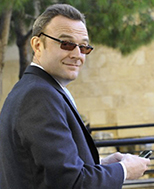 Something must-have has to come out of the bag at launch. 
Essential Products Inc. is the latest in a long line of protagonists which is aiming to have a crack at the high end of the handset market and while it knows where it should compete, I am not convinced that it will be able to.
Essential is a start-up led by Andy Rubin who was the founder of the company that Google very successfully turned into Android.
Essential aims to compete in high-end consumer electronics by offering differentiation if the following areas:

First: Hardware. In any ecosystem strategy today, the most important device is the smartphone as this is where users spend almost all of their time.
Essential aims to compete here by offering a device which has a screen with no or almost no bezel.
Xiaomi has already done this quite effectively with the Mi Mix but this currently only available in China.
This is also the strategy, that I think Apple might use in the iPhone 8 but Essential should be able to launch well ahead of this.
Second: Artificial Intelligence. RFM research has recently identified AI as the 8th Law of Robotics concluding that AI is likely to have meaningful impact on the quality, and hence appeal, of Digital Life services in the medium term.
However, RFM research has also concluded that good AI requires a huge amount of time and a vast trove of user data in order to develop.
I seriously doubt whether Essential has either of these characteristics and while it may try to develop intelligent services, I suspect that it will struggle.
This is especially the case as its services are likely to end up competing with Google's own which Essential will be obliged to implement on its smartphone and to set as default.
Third: Mods. Essential's patent filings include a design for a proprietary magnetic charging port that can also be used as an expansion slot to add hardware functionality to devices.
In this day and age, unless you are Apple, proprietary charging ports are a big no-no and may be an indicator of the inexperience that Essential has in making smartphones.
Furthermore, the best mod on the market is currently made by Motorola which already has some volume and a reasonable range of third party brands making devices to connect to it.
All other modularity plays have either already failed or are struggling for relevance.
I struggle to see how Essential is much different.
Fourth: Cross device: Essential intends to produce a series of devices that will work together to deliver its proposition to users in all aspects of their Digital Lives.
This is also a vision pursued by Samsung, Xiaomi, Apple, Microsoft among others, and it does make some sense.
This is because if devices from one manufacturer all work together seamlessly, it provides a reason for users to buy all of their other devices from the same manufacturer.
This is one way of generating device preference without having an ecosystem and hence of earning better than commodity returns.
The problem is that getting all of these devices to work seamless together is fiendishly difficult and even the mighty Apple has not really got it right.
Microsoft does a reasonable job but there are still glaring holes in the experience that it offers.
Combined with this difficulty, will come the capital intensity of having to design a series of device types all at the same time which could easily be beyond the financial resources of Essential Products Inc.

With the segment that Essential chosen to compete in, there is very little scope to compete in the ecosystem as it will invariably have to support Google.
This is because its target users whether they are on iOS or Android will already have a meaningful part of their Digital Lives invested in Google are unlikely to want to switch.
Consequently, I remain uncertain as to what is special or different with regards to Essential Products Inc.
I am hoping to be well informed when it launches its proposition at some point during H1 2017.