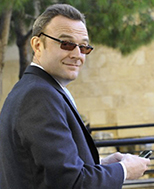 iPhone replacement drives big Q2 15A results.
Apple reported excellent Q2 15A results as the iPhone replacement cycle has remained strong.
Apple increased its cash return program by more than 50% to $200bn.
Q2 15A Revenues / EPS of $58.0bn / $2.33 comfortably beating consensus at $55.7bn / $2.13 despite the currency headwind that crimped the results of all its peers.
61.2m iPhones shipped compared to consensus at 58m, 4.6m Macs shipped compared to consensus at 4.7m and 12.6m iPads shipped compared to consensus of 13m.
Once again the iPhone carried the day and more than offset the small miss in Macs and the ongoing weakness in iPads.
This underpinned gross margins which came it at 40.8% nicely above the guided range of 38.5%-39.5%
This allowed another $15.6bn of cash to be added to the pile, bringing it to $193.5bn.
The problem is that 88% of the cash is held overseas and is unavailable for dividends or buybacks without paying the hefty repatriation tax of around 30% when bringing it back into the US.
Guidance for Q3 15E was in line with forecasts with revenues / gross margin of $46bn-$48bn / 38.5%-39.5% expected compared to consensus of $47bn / 38.9%.
Apple remains in the grip of a very strong replacement cycle which I suspect could continue until calendar Q3 15E.
The larger screen has allowed Apple to address the single biggest shortcoming of owning previous devices.
This combined with a nice design, superb radio and good enough battery life has encouraged existing iPhone users to upgrade sooner than they normally would as well as meaningful switching from Android.
It popularity is also allowing Apple to hold pricing steady meaning that it continues to monetise ecosystem extremely effectively.
Although Apple does not really have Digital Life services of its own, it distributes third party apps in an easy and fun to use way that remains unrivalled.
The other ecosystems are catching up but still have a long way to go giving me confidence that Apple has time to plot its next move before the iPhone becomes commoditised.
That being said, this is all pretty much in the share price of Apple already leaving me preferring the ecosystems with more growth (Google) or those mounting a credible challenge (Microsoft).