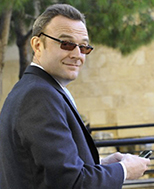 I suspect Spotify will have to cave in. 
Spotify is realising to its cost that competing with the owner of a platform is extremely difficult when one is perceived as a threat.
The latest disagreement relates to the fact that Apple has rejected an update to Spotify's app preventing Spotify from upgrading the user experience it offers to its users.
Apple claims that the update violates its policy that states that apps must use the Apple billing mechanism for the purchase of subscriptions as Spotify has switched them off.
Spotify is now using the app to upgrade or subscribe through its website rather than through the app itself which Apple sees as a violation.
While Apple was not in the music streaming business this was not a problem as Spotify would simply add Apple's cut on top of the subscription price to subscriptions purchased on iOS.
However, now that Apple is a competing service, Spotify is 30% more expensive as a result of being forced to use the Apple infrastructure which is clearly a problem when it comes to attracting new users.
If Apple allows Spotify to use another payment mechanism it will have to allow everybody to do the same which could materially dent its app store revenues.
More importantly, it will make Spotify much more competitive, potentially costing Apple Music subscribers.
The weakness of Spotify is that it is not very good at marketing, meaning that it is only existing users who know that it has a superior offering.
Put this together with a 30% price premium and one touch subscription to Apple Music and it is not difficult to see why Spotify needs to act.
The problem is that there is not much that Spotify can do because it does not own the platform and Apple has already threatened to pull the app from the store entirely.
Complaints to regulators cost a fortune and take years neither of which Spotify can afford.
This means that Spotify is likely to end up having to toe the line.
Spotify's only, and distant, hope is to create enough negative noise with users such that Apple decides to modify its policy more than it already has when it comes to subscription based services (see here).
This is exactly the problem that Amazon has with Google when it is trying to push its ecosystem to its users on Google Android devices (see here).
Its app store and its browser have almost certainly been excluded from the Motorola and BLU devices because they compete with Google.
This is why competing with platform owners on their home turf is so perilous as they can pull the rug out from underneath one's feet with very little notice.
Google which RFM calculates earns 50% of its mobile advertising revenues from iOS devices also has this problem, albeit to a lesser degree.
I am certain that Apple would dearly love to pull the plug on Google but the only the risk of losing large numbers of users to Android keeps it from doing so.
Unfortunately for Spotify, not having its services available on iOS would damage Spotify far more than Apple which is why I think that Spotify will end up backing down.
This is why many ecosystems prefer to control the software upon which their services are delivered because it enables them to offer their services in the best possible way with minimal interference.
This is why every successful ecosystem either directly or indirectly controls the software upon which its services run.
It also explains why the Chinese ecosystem are all busily creating their own versions of the Android software and why Facebook is hard at work removing all the dependencies its apps have with Google Play.
This is a trend I see continuing.