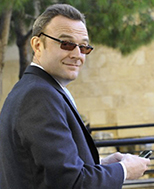 Apple is not about to start making cars.
Apple has confirmed that it is interested in the automotive sector but it is an enormous leap of faith to assume that it will start making cars.
At the Re/code conference, Apple SVP operations Jeff Williams referred to the car as the ultimate mobile device but that does mean Apple wants to make the whole thing.
The car is an obvious addition to the growing list of devices where users live their Digital Lives and so it comes as no surprise that Apple is exploring its options here.
However, Digital Life is pretty much limited to the infotainment unit and I think that Apple can easily go no further from here and still reap all of the value available to it from the car.
The biggest problem for Apple when it comes to making cars is margins.
Apple typically makes around 40% gross margins on the hardware that it sells and to start making cars would probably have a devastating effect on its gross margins.
This is because the auto industry is just not that profitable and in many cases car companies make far more money on the financing surrounding a car purchase than from the vehicle itself.
Consequently, I think that it will prove impossible for Apple to make 40% gross margins on engines, brake pads and wheels.
However, I think it will be quite possible for Apple to make 40% gross margins on the infotainment unit and it is here that I think it will focus.
To date these units are almost always designed by the car companies themselves resulting in a universally poor user experience.
This is a great place for Apple to make a big impact given its expertise in the user experience but convincing the car companies to let go of this crown jewel will be tricky.
Hence, I think it is on the infotainment unit that Apple is focusing which could easily sell for the same price as an iPhone and net Apple very healthy margins.
That is a business that would open up a new product segment, play to Apple's strengths and could drive significant revenues and margins.
Messing around with shock absorbers and brake pads would cause a lot of headaches and be bad for margins.
I would expect this to be launched in conjunction with one or two major automakers as they would have to be on board to create the socket into which the device would fit.
Automobiles have design cycles of four years or more and so it may be a long time before this is launched.
Consequently, those relying on this to drive further revenue growth in the short term are likely to be disappointed.
I continue to prefer Microsoft and Google as I worry about slowing iPhone shipments as the replacement cycle for iPhone 6 begins to subside.