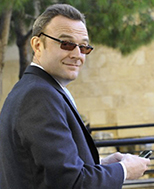 The first Indian ecosystem launches. It won't be the last.
India's second biggest handset vendor has launched a new line of devices resplendent with a new user experience, paving the way for the first Indian ecosystem.
The first device in the series will be available in December but as of yet there is no word on the device itself or its price.
Yu Televentures, a subsidiary of Micromax has been working with Cyanogen to produce a custom version of Android that replaces all of the Google Mobile Services (GMS) with those belonging to Micromax and deemed relevant to the Indian market.
Cyanogen has taken the Android Open Source Package (AOSP) and implemented a custom user experience as well as a few services aimed at the Indian user.
The devices are being launched under the "YU" brand and will be sold through online mechanisms not unlike Xiaomi.
The initial target is tech-savvy Indian users as the devices will also be provided with bootloader access making them easy for the users to upgrade with the software that they want rather than that which the operator decides to provide.
Upon this platform, Yu Televentures will eventually provide a full suite of Digital Life services targeted at the digital activities of Indian smartphone users.
Here I suspect that the Digital Life services required will be roughly the same as they are in developed markets, but they will need to be adapted for the local taste and focus primarily on Bollywood content.
This is essentially a replication of the Xiaomi business model in China and underlines how difficult Xiaomi is going to find life in India.
I think that Yu Televentures already has many of the media rights that it needs to populate the content part ecosystem with some music and movies whereas Xiaomi appears to have none.
Furthermore, licensing content in India is a painful and labyrinthine task and I suspect that Xiaomi will end up going with Google's ecosystem in this market.
Google's ecosystem is global and will have no real local customisation to appeal to Indian users.
This is a logical move from Micromax as the development of an ecosystem is the only way in which the company can hope to differentiate its products and earn anything more than a wafer thin margin in the long-term.
Indian ecosystems are likely to start with pure content (iTunes-like) and then move onto apps and services as they mature. (Just as they did in China and in developed markets).
However, developing an ecosystem that users love and will pay for is a massive and difficult task but if YU has the content already sown-up, it will have bought itself some time.
Micromax is the first of the Indian makers to jump into the ecosystem. It is very unlikely to be the last.
As in China, I think that the Indian players will have an advantage in their home market.
Hence, I continue to be very cautious regarding Xiaomi's ability to gain meaningful share or make any money in this hyper-competitive market.