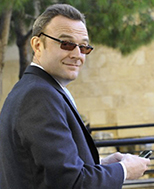 Pandora's only real asset is its 81.1m very engaged users.
Pandora reported difficult Q4 15A results where bullish commentary by management was undermined by speculation that, behind closed doors, the company is up for sale.
Q4 15A revenue / adj-EBITDA was $336.2m / $24.8m behind forecasts of $341.6m / $29.0m.
The increase in content acquisition costs was mostly absorbed by the increase in revenues driven by Pandora's ability to increasingly monetise its static user base.
However, despite revenue increasing by 22% (excluding acquisitions), adj-EBITDA fell by 43% mostly as a result of increasing investments in product development and sales and marketing.
Q1 16E guidance was soft with revenues / adj-EBITDA of $280m-$290m / LOSS $75m – LOSS $65m compared to expectations of $292m / LOSS $30m.
Despite the weak guidance for Q1 16E, management is bullish for the long term targeting $2.4bn in revenues with $480m in EBIT or 20% margins by 2020E.
Assuming success and that this becomes a steady state (no growth) with cost of capital of 8%, this would value the company at $6bn, way above its current valuation of $1.9bn.
Unfortunately, the news that management may be considering a sale of the company leads one to think that in its heart of hearts, management knows that this goal is unachievable.
I think that this is because there are a few fundamental weaknesses in Pandora that will make this goal very difficult to achieve.

First. Competitive pressure is intense and is likely to get worse.
Management pointed out that the free, ad supported part of iTunes Radio has been discontinued, but I think this is Apple rearranging its offering and simply putting all of its weight behind Beats.
RFM research indicates that radio stations Beats 2,3,4 and 5 are in development and the plan there is have them all advertising funded.
This indicates that in fact, the real thrust of Apple's music strategy is to go after the much larger and softer plum of radio for which the US market alone is worth $45bn, 3 times the size of the global market for recorded music. (see here)
In this strategy, Pandora is likely to be collateral damage where its margins come under withering pressure from Apple's scale and balance sheet.
Second. Pandora's catalog is limited compared to that of Spotify, Apple, Deezer, Tidal and so on.
That means that in the streaming market, it does not have a competitive offering.
Third. Pandora's is still predominantly selecting its music manually, meaning that it cannot effectively scale and still compete.
For example, Spotify sends every premium subscriber 30 tracks a week that it thinks that he or she might like.
This service has a pretty good hit rate and is completely algorithmic thanks to its heavy investments and acquisitions it has made in this area.
There is no way that Pandora can match this which also means that its ability to understand what its users like is also far weaker than its competitors.
I believe that this understanding and the ability to leverage it, is absolutely critical to the success of any digital music venture in the long term.

This leaves the real asset of Pandora being its large number of users each of whom rack up around 2 hours of listening per day.
This represents substantial engagement and represents a big opportunity for someone who can address the weaknesses inside Pandora.
It is for these reasons that Pandora may be seeking a buyer as there is a good fit to be had between Pandora and a company with good machine learning and a non-overlapping user base.
Top of this list is Spotify but I am not convinced that it has the financial clout to absorb Pandora even after the hefty falls in its share price. (Same goes for Deezer and Tidal).
I see no reason for Apple to buy it, as I believe that it is quite capable of crushing Pandora organically.
Google remains a possibility as YouTube is already a major source for free streaming music for millions of listeners.
Pandora could provide a place to consolidate and crystalize a proper push into the content consumption segment of Digital Life as well as provide a good head start when it comes to engagement.
Amazon is another possibility but its model of subscription only with Amazon Prime does not fit well with what Pandora has developed.
Consequently, I see Google as the most likely acquirer but the likely lack of hot competition for this asset and the volatility in both the public and private markets may well allow Google to beat the price down.
Therefore, I would not be looking to own Pandora on the back of any potential acquisition.