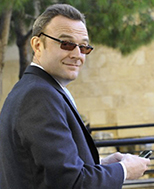 The best option is to sell itself to China. 
There are further signs that Cyanogen is in trouble as it is laying off staff and may be about to go through yet another change in strategy.
This is a far cry from 12 months ago when it had $80m in the bank and was planning on reaching at least 200 people by the end of 2016.
Unfortunately, its business model of revenue sharing with Digital Life service providers enabled through its software, has never made any sense and now I see Cyanogen is adjusting to that reality.
The example of Microsoft serves as an excellent example of how this strategy was never going to work.
Cyanogen announced with great fanfare in April 2016 that it would be integrating Microsoft Office and other services into Cyanogen upon which it would presumably collect a revenue share.
Unfortunately, all of Cyanogen's devices have screens of less than 10" and on these devices, Office is free.
Consequently, while a partnership with Microsoft is great for the headlines, it never really had any chance of generating any revenues for Cyanogen.
The other problem is that since Cyanogen caved in and became compliant to Google's standards, it gave up its key selling point and hence, its appeal as an alternative to Google went to almost zero.
This combined, with suboptimal handling of the few handset makers that it already had on board meant that the outlook for Cyanogen making any revenues in the foreseeable future collapsed.
It appears that the workforce is being reduced by about 30% and the company is rethinking its strategy but I can see only one realistic option for this company (Recode).
There are two factors that make China a good fit for Cyanogen.

First: Cyanogen has a good implementation of Android and has a pretty good team of software engineers that understand some of the finer nuances of digital ecosystems.
Second: RFM research indicates that the next stage for competition in China is likely to involve much greater vertical integration for the likes of Baidu, Alibaba and Tencent.

Taken together it is not difficult to see how Cyanogen would be an excellent fit for ecosystems in China that need a platform.
Both Alibaba and Xiaomi and reasonably well advanced in creating their own platforms but both Baidu and Tencent look to be very far behind in this race with the China Mobile doing virtually nothing.
I think that buying Cyanogen and using it as their own proprietary fork of Android would provide a big step forward for these companies and could put them ahead of Alibaba which is currently leading this trend.
I think that this would be a better outcome for Cyanogen's workforce and its investors as the current trajectory has it on the road to running out of money and closing down.
I think that this would be a real waste as Cyanogen has a good software asset and its development direction indicates a good understanding of the 7 Laws of Robotics which I think is essential for the success of any digital ecosystem.
Of all the companies in China, RFM research shows that only Baidu demonstrates a real understanding if these laws.
Unfortunately, I suspect that selling out to the Chinese would be seen as a big failure and I can see resistance to this option both inside Cyanogen and in its investor base.
I continue to think that having to close its doors, making it a distressed seller, is a much worse outcome for all concerned.