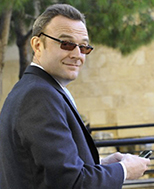 Microsoft has the bit between its teeth while Amazon flounders.
Microsoft and Amazon reported results on 23rd October leaving me in no doubt that a strong preference for Microsoft over Amazon is the right way to go.
Microsoft Q1 15A
Microsoft reported excellent results with Q1 15A revenues and EPS of $23.2bn / $0.54 compared to consensus at $22.0bn / $0.48.
The combination of the stability in the PC market and hardware shipments being ahead of expectations, underpinned the outperformance.
Cloud, Office 365, Surface and Lumia all had an excellent quarter and this is expected to continue into fiscal Q2 15E.
Phone hardware is expected to decline this quarter but this is more due to the rationalisation of the non-smartphone business which I am expecting to be wound down over the next few quarters.
This performance is also gratifying as it comes in the midst of the biggest shakeup Microsoft has been through in the last 20 years.
Focus has not been lost and I am comfortable that the businesses should continue to perform despite the internal upheaval.
The key now is to bring all of the disparate pieces of the Microsoft ecosystem together.
When they are all integrated and they all know about each other, then Microsoft can offer a full and complete offering for both Digital Life and Digital Work.
This is the panacea that will return Microsoft to steady growth but there still remains a mountain to climb.
In the meantime the fundamentals are steady and the stock looks likely to continue its steady performance.
Amazon Q3 14A
Amazon reported bad Q3 14A results as growth continues to come at the expense of profitability.
Q3 14A revenues and EPS were $20.6bn and LOSS$0.95 compared to consensus at $20.9bn and LOSS$0.75.
Included in the figures was a $170m write-down of unsold Fire phone inventory.
This looks like a $200 write off per device implying that Amazon had made commitments for somewhere around 1m units.
It looks like Amazon has shipped something in the region of 35,000 devices to date.
This comes as no surprise (see here) and I continue to believe that Amazon is conducting an expensive series of random experiments rather than having a real strategy to build an ecosystem.
Guidance for Q4 14E was also very disappointing with revenues of $27.3bn-$30.3bn expected and net loss of $570m to a net profit of $470m is expected.
This compares unfavourably to forecasts of $30.9bn and a net profit of $461m.
Erratic ecosystem strategy aside, the fundamental problem with Amazon is that it makes no money.
Investors have been waiting a long time for scale to start working in its favour and for the company to start earning some money but it never seems to happen.
Worst of all, at 126x 2014E PER and 69.4x 2015E PER the shares are already pricing in improvements that never seem to materialise.
The correct valuation for a company that will never make a net profit for shareholders is 1x book value.
In Amazon's case this is $10.3bn which is far below the current market capitalisation of $146bn.
It is an extreme statement to say that Amazon will never make any money for shareholders but it is clear that until it does, one should steer clear.
Google, Microsoft and Apple are far better places to be.