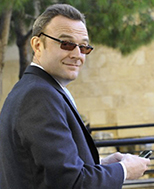 Google's move to be an MVNO is all about control.
It looks very likely that Google will launch its own branded MVNO during 2015 using the networks of T-Mobile Inc. and Sprint. 
This is not good news for either T-Mobile or Sprint despite the share reactions to the news.
While they will get more traffic across their networks, they will come closer to being bit pipes leaving all the real value for Google.
Google has a habit of launching idiosyncratic projects like floating retail stores, Internet balloons, Space X and the like but this one appears to have a real purpose.
The Google ecosystem has two big problems.

First. The user experience on Android is not nearly as good as iPhone or even Windows Phone.
The major factor behind its problems is the chaotic and random nature of Android where the user has to be his own systems integrator.
This is what causes its lower usage and lower loyalty and I believe that this makes it vulnerable to market share loss.
Second. Google has no control over the distribution of its mobile services software.
Despite being launched for nearly 8 months and available for 3, Lollipop (5.0) is present on less than 0.1% of Google Android devices in the hands of users.
By contrast iOS8 is on 71% of all Apple devices and achieved 33% within one week of release.
All of the great innovations and improvements that Google has made are currently sitting on the shelf getting old while everyone else copies and improves on them.

The only way in which Google can fix these weaknesses is to take control of the software and ensure that its ecosystem into the hands of the users how and when it wants.
By creating its own MVNO, it will have a much bigger route to market for its Nexus devices where it has soup to nuts control.
It will also be able to create incentives to get users to buy the devices and set tariffs to encourage usage of its ecosystem.
This is why I think Google may be taking this route and shareholders of T-Mobile and Sprint should not be rejoicing as it will only accelerate their commoditisation.
Google increasingly looks dominant in its segment of the market and is well set up to reap almost all of the benefits of having an ecosystem.
It has already bent the handset makers to its will. Now it is the turn of the mobile operators.
I continue to like Google alongside Microsoft and Apple as places to be when considering investing in the mobile ecosystem.