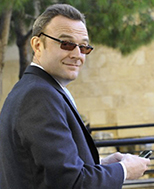 Qualcomm and Samsung get one over TSMC.
Despite losing out to Samsung's in house Exynos apps processor in the Galaxy s6, Qualcomm looks to be back on track for the flagship device in 2016E.
There were problems with the Snapdragon 810.

Firstly, in Samsung's hands it caused its device to overheat.
I suspect that this actually had little to do with Qualcomm (see here), but it was an issue when it came to adoption of the 810.
Secondly, the Snapdragon uses a standard ARM designed processor rather than Qualcomm's own design using ARM's IP.
Qualcomm has long used its own designs in its chips and has been able to achieve better performance as a result.

Consequently, the Snapdragon 810 just did not work well for Samsung prompting it to use its in house processor.
However, the Exynos has no on board modem meaning that another modem chip is required which increases costs.
At the same time, Samsung has ramped up its 14nm production capacity and it looks like Qualcomm will be using that for the Snapdragon 820 rather than TSMC.
Qualcomm has typically used TSMC for its leading edge chips due to its superb execution capability at the leading edge.
This has three benefits for both Qualcomm and Samsung.

First. This will make the hurdle much lower for Samsung to use the Snapdragon 820 in its next flagship product.
This is because the total cost to Samsung Electronics of using Qualcomm will be meaningfully lower.
Instead of 49% gross margin accruing to TSMC, that margin will stay inside Samsung, significantly reducing the overall cost of using Qualcomm compared to its in house chip.
Second. Samsung will no longer have to use a companion modem as the 820 has the modem on board which will reduce costs further.
Third. As the Snapdragon 820 will use Qualcomm's own processor design, the performance should be better.

This will also help Qualcomm's gross margin as Samsung LSI is in ramp up phase and is still prepared to accept lower gross margin in order to gain share compared to TSMC which is holding steady at 49%.
The real loser here is TSMC.
Samsung has managed to get a technical edge over TSMC by going to 14nm early, which combined with keeping more revenues in house, can reap greater benefits by using Qualcomm than before.
Despite this benefit, I still see Samsung struggling to return to its former glory in handsets and am nervous that management has set market expectations too high.
I would prefer Microsoft or Google for exposure to the digital mobile ecosystem.