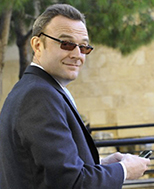 The console war goes much further than the living room.
The initial momentum has gone to Sony but Microsoft is looking to close the gap with exclusive titles.
Xbox One and PS4 have been available for some months now and Sony is comfortably ahead having shipped 6m consoles compared to Microsoft's 4m. (RFM estimates).
I suspect that a large part of this is down to the fact that the PS4 is $100 cheaper than the Xbox One.
Microsoft is not taking this lying down and has already enacted a price cut in the UK and is also bundling games in with the console at the same price.
This is an effective admission that the console is too expensive relative to PS4 and that Microsoft has to give more things away to maintain volumes.
Microsoft is also hoping that its new game Titanfall will also drive sales of the platform but here I am more sceptical.
Titanfall has received great reviews and is not available on PS3 or 4 but is it is available on the Xbox 360 as well as PCs.
Hence, while it may tip the balance slightly towards Xbox One when a user is choosing between it and the PS4, it will do nothing for driving upgrades from the Xbox 360.
Microsoft is doing better on the software side as it can afford to pay developers for exclusives and if this trend continues it may just give it the edge over Sony.
The PS4 pipeline looks a little thin at the moment but most developers who write the big hits will simultaneously launch for both platforms.
What is really at stake here is the ecosystem.
Microsoft and Sony are slugging it out for the hearts and minds of the user.
With the heart of the user in one's pocket, the ecosystem then has a good chance to migrate that user to its experience on a mobile phone, tablet, television or PC.
In effect they are aiming to migrate the users from just playing games to living their entire Digital Lives within the ecosystem.
Here, Microsoft has a massive advantage as it has much better coverage of Digital Life than Sony and has pots of money to invest.
However, while Microsoft sits in a strategic no-mans-land as its new CEO decides where he will take the company, Sony has a chance.
Sony remains the only Japanese company with a realistic chance in the brutal world of consumer electronics but Hirai-san needs to redouble his efforts to break the old and usher in the new.
In the short-term Microsoft has more upside from a recovery in the PC market and I would continue to prefer it over Sony for now.