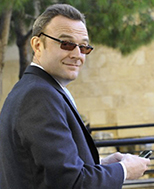 Facebook is creating a family of products to address Digital Life.
Facebook has opened what I consider to be the most important season of industry meetings when it comes to really understanding the action and the money in the consumer electronics industry.
Between now and mid-June Facebook, Microsoft, Google and Apple will hold their developer conferences where they will unveil the innovations with which they intend to strengthen their ecosystems.
Users do not pay crazy prices for iPhones or let Google into every aspect of their lives for no reason.
They do so because they want access to the Digital Life services that these companies deliver and for that they are willing to pay in coin or in data.
In fact so commoditised has become the hardware that I would argue that over 90% of the mobile industries profits are in fact generated by people paying to access an ecosystem not a device.
Facebook kicked off the season with F8 where it is presenting to 2,000 developers how it intends to develop the Facebook user experience.
Facebook messenger has been a colossal success since it was stripped out of the larger Facebook app. and has now passed 600m users.
Facebook intends to build on this success and its offering is developing into a family of services which I presume will eventually cover most of the activities that users carry out on their phones.
To this end the big announcement of the day was that Messenger will now become a platform upon which developers can innovate.
It is starting small, with innovation limited to entertaining ways in which to communicate over the messenger system, but it is clear that the plans are this to evolve.
Facebook also announced the ability to communicate with businesses within the messenger app. neatly moving the system into e-commerce which is the single fastest growing activity on mobile devices albeit from a low base.
In effect, messenger is following the trajectory of Line and WeChat in creating its own platform from which it can offer value to users and keep them using its services for as long as possible.
I suspect that over time all of Facebook's existing properties will be evolved to allow more developer innovation and to offer a more complete set of services.
Furthermore, I would expect them to end up working much more closely with each other so that users feel they are living in one place just with multiple rooms.
This is exactly what Facebook needs to do as its long term growth depends on users doing more than just social networking and messaging on Facebook.
Great coverage of Digital Life will mean greater relevance of advertisements and more time spent by users giving a much greater revenue opportunity.
This will have a significant impact on revenues but there is a long way to go before this revenue shows up in the numbers.
The first problem to solve is the awkward situation that exists with WhatsApp.
This asset is in the books at $19bn (1,357x 2014A Price / Sales) but Metcalf's law of networking indicates that there is a lot of value to be gained if the two can be put seamlessly together.
This is badly needed if Facebook is to escape a massive goodwill write down as WhatsApp. Delivers virtually no tangible revenues of its own.
This is why WhatsApp. must become part of the Facebook family and I think that over the next year or two, we will see this become a reality.
Facebook announced nothing particularly new or revolutionary at its developer conference but it did announce what is needed to keep its revenue growth going over the medium term.
Its biggest asset is its 1.3bn MaUs and the 600m who regularly user Facebook and Messenger.
This gives it a massive advantage over its smaller competitors who will need to develop geographic or functionality niches to keep their users on board.
Facebook is slowly becoming an ecosystem but I need to see a lot more of the pie covered before I can be comfortable that it has arrived.