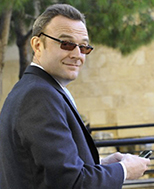 Like the television, I think the car will never launch.  
While I am sure that Apple is engaged in building an autonomous automobile, I think that it is finding it much harder than expected and I still do not expect it to ever launch.
I think that this is similar to the large screen television that Apple built but never launched albeit on a larger scale.
The issues I have with Apple becoming a car maker are simply that making these sorts of products is not something that Apple really knows anything about nor is the market or regulation of cars like anything else in which Apple is currently active.
This is why I think Apple turned to BMW and Daimler for their experience and expertise in building these sorts of high quality products.
However, both of these companies have realised how important the data the vehicle generates is and consequently refused to allow Apple to store it in iCloud.
The net result appears to be that Apple has turned instead to one of the tier 1 suppliers as these companies are much less likely to have these sorts of objections.
Apple partnering with a member of the automotive industry does not alleviate the most pressing problem with Apple selling a car which I think remains profitability.
Apple prides itself on earning 40% gross margins on the products that it sells and unless it can earn 40% gross margins on wheels, brakes and sheet metal, an automobile will be significantly margin dilutive.
I think that this would be catastrophic for the valuation of the company as a main pillar of Apple's valuation is its fantastic profitability.
Many car companies make no money at all on the products that they sell but instead earn a return on the financing that they provide to make it easier for consumers to buy their products.
Against this backdrop, 40% gross margins on a car, even one with an Apple badge on it, look hopelessly unobtainable.
It is clear that the automobile will become an important device in the digital ecosystem where users live their digital lives making it an area that Apple cannot ignore.
Consequently, Apple needs to understand the automobile industry and its users and the best way to do that is to get one's hands dirty and build one.
From an economic standpoint, it still makes most sense for Apple to make an infotainment unit (see here) but all of the car makers have realised the strategic importance of the infotainment unit to their brands long term.
Hence, none of them are about to leave a hole in the console for Apple to fit its unit, earn 40% gross margins and suck out all of their data.
As a result, I think that Apple's future in the automotive market is very uncertain as both avenues of earning a return through selling hardware look like dead ends.
I think that project Titan is designed to teach Apple what it needs to know about the automotive industry so that it is in a position to make the most of whatever opportunity appears in the future.
This could be services, a companion device, an autonomous driving system or even a partnership but I still think it extremely unlikely that there will ever be an iCar.
Apple remains very lowly valued but its lack of growth is likely to hamper appreciation in the share price.
Apple looks good for long term holders but those looking for share price appreciation in 2016 would do better to look at Microsoft or Samsung.