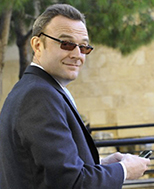 iOS 8 is not going to solve the long term services problem.
Apple's hardware and its ecosystem are world leading but both of them are being slowly replicated by competitors.
Only apps and services that are exclusive to Apple will allow it to really differentiate in the long term and of these there is little sign.
What there is today does not cover Digital Life very well and many of the services such as Apple maps and iCloud are not as good as alternative offerings.
Hence, there is some hope that iOS8 will go some way towards addressing this issue but the rumour mill is not particularly encouraging in that regard.
First, Healthbook.
This is a service that tracks and aggregates health related data such as blood pressure, heart rate, blood pressure and health history in one place.
It is in effect a medical record that the user carries around and updates as things change.
The problem with this is that the user will have to input and maintain all the data manually making it cumbersome and labour intensive to use.
Unless this can be automated and made cool and fun in some way, I can't see this being of much interest.
Second: Apple maps.
A big update to this service is expected and it is hoped that this will bring it into line with Google Maps and Here.
I think that this is extremely unlikely.
Maps are not rocket science. They are labours of love.
On average it takes 6 years, 6,000 people and $600m in annual OPEX to create a good map and I am convinced that Apple is investing a fraction of the required amount.
Hence, I suspect that Apple is still miles adrift of Here and Google and I remain unconcerned their edge is about to be eroded.
Third: iTunes Radio.
iTunes radio is expected to be moved into its own application to boost its recognition and support.
This will do little to improve its user experience when compared to Pandora, Deezer, Spotify and so on and so I expect that users will continue to use the services to which they like and to which they have become accustomed.
All of these services have one huge advantage in that they will be embedded in every device that ships and will be set as the default services.
History has shown that this is a huge advantage and usage of Apple maps has improved meaningfully as a result of this factor.
This will go some way in addressing the functionality and coverage shortfall but it will allow Apple to maintain premium pricing for hardware.
 Take home message
While iOS8 looks like it will be a solid update, it will not fix the longer term problem that Apple faces.
Apple needs to come up with innovative and fun ways for people to live their Digital Lives on Apple devices that cannot be replicated elsewhere.
Failure to do this means that margins are likely to steadily erode to around the 10% level over a number of years. (RFM estimate).
In the short-term the outlook is stable and I am hopeful that the iPhone 6 will bring Apple back into contention with Samsung, HTC, LG and others in terms of hardware specification.
The Apple story is well known and fairly priced. There are much more interesting places to look such as Yahoo!, Google and Microsoft.